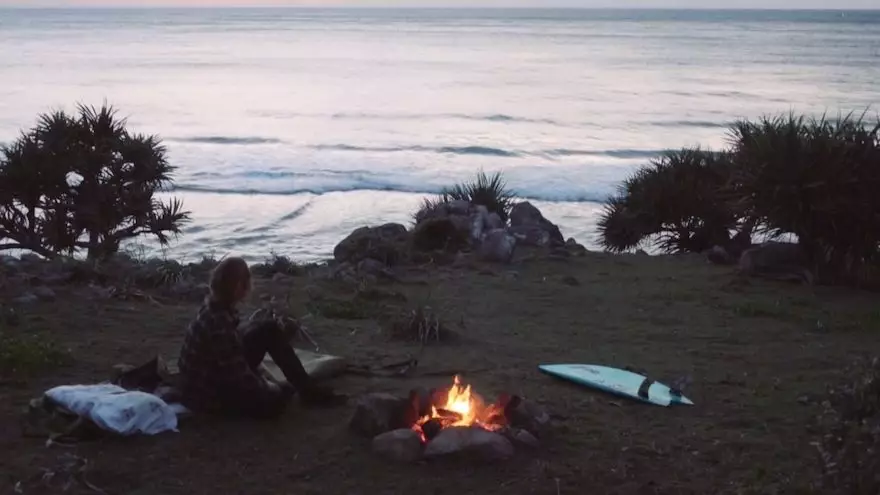 Pacey in his happy place – Photo: Vimeo
With so many new surf edits dropping this month choosing the top five hasn't been easy! Maybe we've played it safe with videos featuring outstanding surfing talent like Pat Gudauskas, Harry Bryant, and Asher Pacey, or maybe we've got it totally bang on! Get comfy, press play, and see for yourself…
–
Water Over Sand
The Asher Pacey and Matt Kleiner team are always worth a watch when they come together. Pacey's surfing and Kleiner's directing fit together perfectly, having put out plenty of flicks in the past. Their latest video takes place on an isolated beach in Australia, a couple pals, empty surf, a few beers, a little fishing, good times. Watch this and try not to start thinking about your next surf camping trip!
–
Home – Mateia Hiquily
We don't see a whole lot of videos coming from Tahitian QS surfer Mateia Hiquily, so when they do drop you know it's going to be something special. In this flick the Teahupoo local is shredding waves all over Tahiti, charging monster swells, getting shacked in crystal clear barrels, and boosting punts on small days! If you've ever wondered if there is much more to Tahiti than Chopes here's your answer…
–
Edge Of Africa
Wanna see what life's like surf tripping with Pat Gudauskas? Edge of Africa follows him around, yeah you've guessed it, Africa! From monster rights at J-Bay to endless lefts at Skeleton Bay, Gudauskas also reveals what's going through his head when he's competing on the QS. Filmed over the course of 3 weeks, he's also joined by brother Tanner Gudauskas and fellow Vans team rider Dylan Graves, but really it's all about Pat!
–
Hazmania
Look at Tasmania on a world map you could just write it off as a dejected cold rock, cast away from the altogether more enticing climes of the Aussie mainland. On closer inspection you'll find this unassuming province is home to unreal surf, and we're not just talking about Shipsterns. In Hazmania, we're treated to the gifted Harry Bryant exploring this little island and shredding its waves for all their worth! Filmed by Ryan Mattick and edited by James Kates, we've also got Zion Wetsuits to thank for this one!
–
Collective Chaos
To wrap things up we have a short but sweet edit from filmmaker Jordan Montgomery, who followed Virginia native Michael Dunphy over to Lower Trestles. Dunphy makes the most of the reeling mechanical rights, and a few of the lefts too, with incredibly powerful surfing. He throws in a few airs, but this video is much more about throwing serious spray! Backed with a tune from TV Torso, Montgomery stitches together the sequences perfectly, making for a solid showcase of this Virginia Beach surfer!
–
Want more? You'll have to wait! More of the best surf videos from across the planet are coming soon…