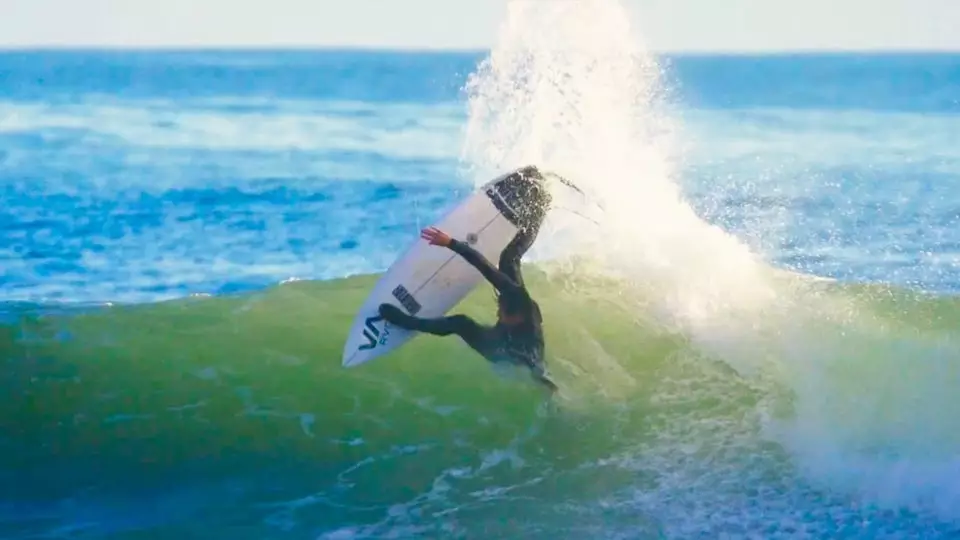 This happens in one of April's best surf videos! – Photo: Vimeo
So, what have we got in store for you this month? Octopus dropped a sick new edit featuring the amazing Spiderman, wait, that's actually Colin Moran. Then there's Dane Gudauskas shredding in his latest Paradise Projects video 'Wind', and we also got an entire year's worth of big wave riding with Nic von Rupp condensed into less than 3 minutes. Oh, and Morocco's four-time national champ is on the playlist for this month too!
–
Brusco
Brusco follows big wave charger Nic von Rupp around the world as he charges the biggest swells to hit iconic surf spots around the globe. Nazare, Mavericks, Jawas, and more, it's his entire 2019 big wave season in one short easy-to-watch clip! Maybe it's not that easy to watch actually…
–
Meryem El Gardoum from Morocco
Laura Enever takes us on a tour of Morocco in the first episode of a new series called 'Know the Feeling'. Yeah, you remember the Billabong slogan 'Only a surfer knows the feeling'. Well, get to know Meryem El Gardoum, one of the best surfers in this wave-rich North African country.
Know the Feeling – Morocco with Laura Enever
–
Cabin Fever
In Cabin Fever, we have Koloe Andino back again after featuring in last month's best surf videos. This time he is killing it again around his hometown state of Santa Cruz. If his last two videos are anything to go by he is in fine form for the 2019 WSL Championship Tour, watch this space!
–
Wind
More California surf right here, but this time it's Dane Gudauskas hunting down waves across the Golden State. And he sure does score some gold during what was a pretty inconsistent winter and early spring. Brother Tanner Gudauskas, along with Tom Whitaker, Alex Kilauamo, and Sean Lesh are responsible for the filming, with space rock legends Hawkwind providing the soundtrack!
–
Octopus: Colin Moran!
To wrap things up we got some Octopus for ya'll. Have we saved the best for last? Watch and decide for yourself. What is for certain os that the goose is most certainly loose in this surf flick! Matt Payne stitched this edit together, with footage from Matt Tromberg, Hunter Martinez, Jack Coleman, and more!
–
That's it 'til next month…