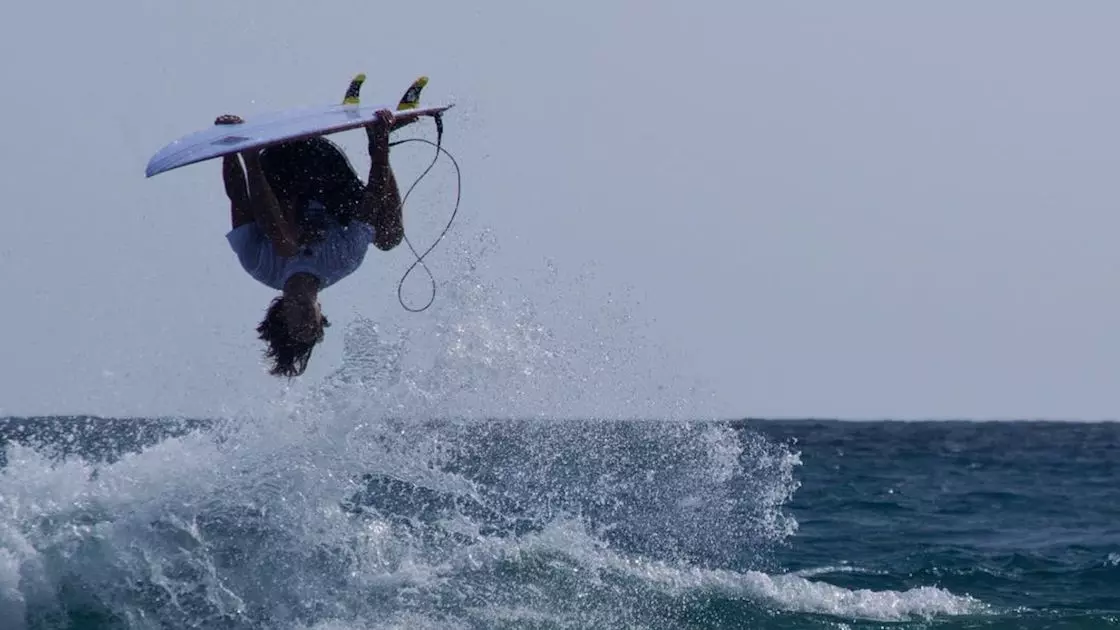 Airs aren't what they used to be… – Photo: Instagram
It seems like not a week goes by without some new crazy air being nailed. Some tricks most surfers would never have even dreamt up, others believed impossible on a surfboard. It's no secret that surfing requires persistence, but to stick the type of airs we've got lined up for you here takes nothing less than lifelong dedication. Seeing as we're already more than halfway through 2017 let's cast our eyes back over the craziest airs we've seen so far. If this lot is anything to go by, who knows what we're going to see before the year is out!
The Mikey Wright McTwist!
Mikey Wright, the renegade Aussie whose sister and brother have carved out a successful career in the WSL. But not Mikey, he prefers flipping the bird to heats and instead chooses to flip himself above waves. When this clip was unleashed in March, internet commentators roared and bickered over whether it really was a McTwist or not. Take a look and decide for yourself (Filmmaker Pierre Wikberg added a clip of snowboarder Todd Richards and skateboarder Mike McGill who invented the trick so you can compare!)
Zoltan Torkos Does a Kick Flip… Again!
There's a story that'll tug at your heart strings for this one! Zoltan Torkos has been doing kick flips for years and years already, but why? Back in 2011, his buddy Carl Reimer was watching him practice and told him he had to keep going, stick with it until he could really stomp it. That was the last thing Reimer said to him before being shot and killed. Torkos is still at and he's got pretty damn good at it! This could be one of his cleanest yet…
Matt Meola Spindle Flip 540 or 720?
If you haven't watched Matt Meola in Numb then check it out, but don't go yet, because you'll get to see one of the best parts of the movie in just a sec! The speed that Meola spins at makes you wonder how he doesn't just keep on going up, and his latest air has blown minds just like his ones before. Is it a 540? 720? a 540-to-revert-720? or do we just call it a Spindle Flip like Matt himself named it when he first nailed it a couple years back? Who cares, just enjoy the show!
Hector Santamaria and his Flippy Moppy Flip!
What exactly was Hector thinking when he rode out this flip/air/madness? It must have been something along the lines of Flippy Moppy Flip, because that's precisely what he decided to name his trick! Pulling off shit like that in waist-high Puerto Rican rollers makes him no less than a wizard in the waves, hats off to him!
Alley-Oop à la John John Florence!
Ok, he's been busting these out for years and what's so special about another alley-oop air from John John Florence? Firstly, he stuck it in a Championship Tour contest at Bells Beach, secondly he did it to win the heat with barely a minute left on the clock, and thirdly because it's as smooth as Kelly Slater's shiny bald head. The claim says it all, even for the world champ this type of stuff only comes together once in a blue moon. Maybe thats why he called his movie View from a Blue Moon…