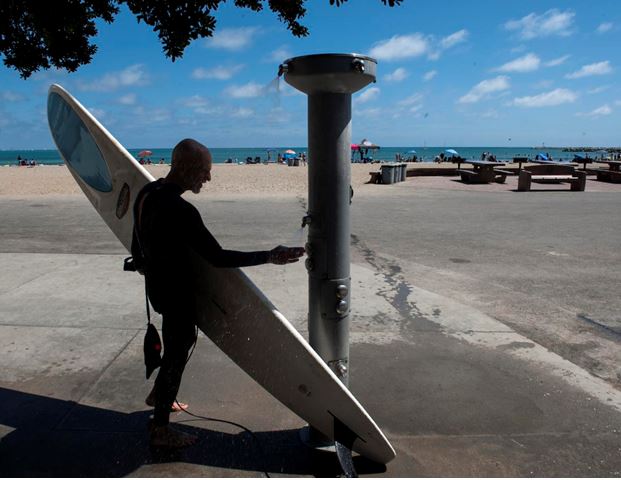 Surfer showering off at one of the many public outdoor rinse stations in California
In an effort to conserve water in California, surfers and beachgoers will need to forego their showers after playing in the sun and sand.
Starting mid July, beachgoers will no longer be able to use public showers. California is in its fourth year of a catastrophic drought which has cost billions of dollars to its agricultural sector and prompted its first-ever mandatory cutbacks in urban water use.
"California is facing extremely severe drought conditions," State Parks Director Lisa Mangat said in a news release. "It is important for all Californians to conserve water at home, at work and even when recreating outdoors."
California Governor Jerry Brown, who declared the drought an emergency in 2014, ordered residents and businesses in April to cut water use by 25 percent.
According to Reuters, visitors to the state's beaches use about 1.2 gallons (4.5 liters) of water per day at outdoor rinse stations, for a total of about 18 million gallons (68 million liters) of water annually, the news release said.
To remove salt and sand without the outdoor rinsing stations, the state is suggesting that beachgoers bring a towel or brush to wipe themselves down. The state also suggests bringing water from home.
Read more: http://www.businessinsider.com/r-beach-showers-shut-off-as-california-struggles-with-drought-2015-7#ixzz3fysN349A