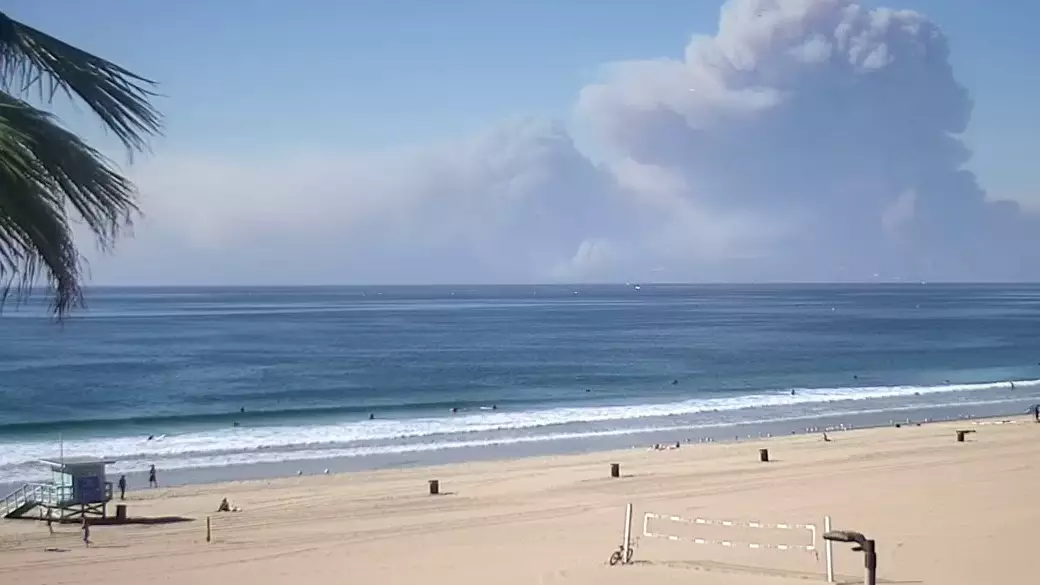 A still from the Manhattan Beach surf camera
The Woolsey Fire just keeps on burning, and our cameras pointing towards Malibu have been providing a live feed of the billowing smoke coming off the hills.
Malibu Woolsey Fire Live Cam Timelapse
Daytime time-lapse of the Woolsey wildfire raging…
Malibu Fire Footage from Los Angeles Beach Cam
The fire lighting up hills behind Malibu at night…
Both those videos were taken on our Los Angeles surf cam, click the link to see what's happening there right now. additional footage of a huge smoke cloud was captured by our Manhattan Beach surf cam.
Malibu Fire Footage from Manhattan Beach Cam
Santa Ana winds are blowing the smoke mostly out to sea…
The view from the Hermosa Beach surf cam gives us an even wider angle, showing the magnitude of the Woolsey fire …
Malibu Fire Footage from Hermosa Beach Webcam
Not what you'd usually see on the horizon at Hermosa Beach…
Please check out this Instagram post if you are in Los Angeles, the Body Glove boat is ferrying in supplies to Malibu, by sea is currently the only way in, so lend a hand if you can!