The highly anticipated 2013 USA FLOW Tour Finals stopped off at the
Flowhouse LBI
in Long Beach Island NJ this past Labor Day weekend. Proving that it will take more than natures forces from Hurricane Sandy to keep Flow House off the tour, Dan Sprague (Flow House LBI manager) took up the invitation to host the tour finals and insisted on having the event at their venue which FLOW (Flowboarding League Of the World) was extremely happy about.
"Hurricane Sandy was the most powerful and devastating storm to hit our island in over fifty years, yet amid the destruction hope and a sense of community have never been stronger. People from the island, surrounding towns, and around the nation have come to help when we all needed it most, and they wanted nothing in return but the opportunity to help. That being said we are more excited than ever for the coming summer and the chance to host this year's Finals. We have enjoyed being part of the tour the past two years and love to help with the growth of the sport and community" said Dan Sprague.
2013 US Flow Tour Finals | Presented by Carbon @ FlowHouse LBI
The unique water park set-up @ Thundering Surf Water Park, situated in Beach Haven LBI, was something to certainly check out during this great event! Plenty of talent showed up and the competition was fierce. For those who were not able to attend, TheSurfersView.com provided a live feed with multiple camera angles and audio up until the awards.
Riders Nick Nguyen, Brad Spencer and Xana Nash are the National Champs and are headed to compete in the 2013 World Flowboarding Championships.
For more on the National Flow Tour check out their website.
Be sure to check out the Flowhouse LBI cam
---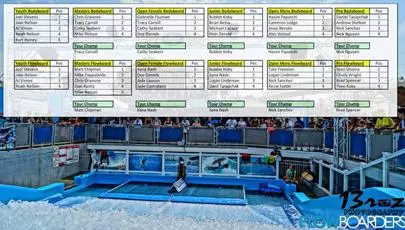 Click for 2013 National Flow Tour Results