The 5th Annual Paddle for a Cause was held on June 16,2012 with a record turn out of 110 Participants. This was by far our most successful single fund raising event to date! Thanks to your outstanding fund raising efforts we raised close to $60,000 which goes directly towards helping individuals battling cancer.
The event started and ended at the Farley State Marina at the Golden Nugget and was everything founder Mike May had intended it to be, one grueling challenge.
The 22.5 mile paddle around Absecon Island proved to be, once again a monster of a course and was made even tougher with the 25MPH head wind in the back bay for 14 miles of the course. (Oh yeah and just for fun it was against the tide!)
On Behalf of the entire Board of Trustee's and Dean we can not thank you enough for your support. We look forward to better weather conditions and a bigger turn out next year!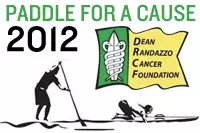 WINNNERS CIRCLE
---
Open Prone Division
Jason Chew 4:35
Bill Webster 4:41
Justin Schwartz 5:00
Tony Mehalic 5:03
Andrew Gessler 5:05 Open Division
Sean Brennan 2:43 Margo Pellegrino 4:23
Men Stand Up Division 14′ and under
Mark Temme 5:13
Ryan Oliver 5:15
Billy Mehl 5:25
Paul Giunta 5:31
Sean Duffy 5:43Unlimited Stand Up Division
Sven Peltonen 4:32