Photos: Jeffery L Depew and Paul Guinta
The Dean Randazzo Cancer Foundation
hosted its
6th Annual Paddle for a Cause
on
June 22, 2013
. The event reached a record turnout of 130 participants for the aquatic endeavor. Unlike last year's twenty-five miles per hour northeast winds, this year's greatest concern was to keep participants hydrated. "The weather and tides were the perfect match to make this the fastest course I have experienced in my five years of paddling it," said DRCF President, Paul Giunta.
The race began at 8 a.m. in the Marina District of Atlantic City. Racers paddled west into the Atlantic City Inlet, toward the bay, and out past the city edges. The course stretched alongside Ventnor, Margate and participants continued to paddle out past the Longport Inlet, where they turned back north in order to finish at the docks of the Golden Nugget Casino.
In the stand-up paddle division (SUP) New Jersey natives Sean Duffey of Somers Point and Sven Peltonen of Brigantine combatted closely the last four miles. "It was thrilling to watch the two battle back and forth," said support boat captain and DRCF board ambassador Dicky Nugent. In the course's final stretch, Sven swept himself ahead to the Atlantic City inlet for the win. Both Sean and Sven along with the DRCF President broke the course record (4:31) previously held by Mark Temme, a New Yorker.
Another impressive win occurred during the close of the unlimited prone division when Thomas O'Neill of Malvern, New York edged out his competitor Ryan Mathews of Asbury Park. O'Neill won by 1:16 seconds. This extraordinary win was redemption for O'Neill, who last year was beaten by Mathews in the NYSEA paddle, a laborious twenty- six miles around Manhattan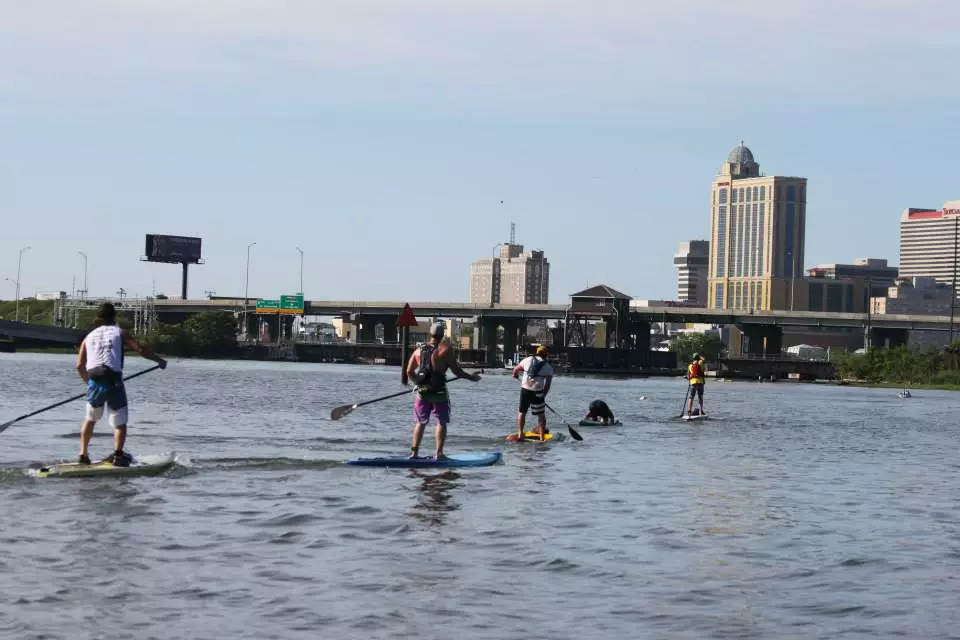 Competitors in the Paddle for a Cause. (Photo by Dean Randazzo Cancer Foundation)
"This was my first year paddling in the Paddle for a Cause and I have to say this foundation runs a first class event and I will definitely be back next year," O'Neill said. O'Neill was a Division 1 swimmer for Ohio State and is currently a lifeguard at Riis Park in New York. Last year, he won the United States Lifeguard National Championship in the surf race division. Thomas O'Neill and Ryan Mathews are world-class athletes and both have dissolved the previous course record held by Gram Parker of 4:26.
This event has grown from a humble beginning of a few friends on a fun excursion to 130 prone, stand-up paddle (SUP), kayak, and paddle racers. Recently added this year to the foundation's Annual Paddle for a Cause is an eight-mile back bay social paddle for those unable to commit to the grueling twenty-two and a half mile course.
The DRCF Annual Paddle for a Cause is now a World Paddle Association sanctioned race for regional watermen and this year has raised more than $50,000 for local individuals battling cancer. Additionally, to date, the foundation has raised over $400,000 to assist individuals and their families battling the disease.
When the paddle ends the participants, spectators and their loved ones celebrate with an evening party hosted by The Deck bar at the Golden Nugget. The DRCF is becoming legendary for hosting some of the best event after parties of the summer.
"It's wonderful to see how far the foundation has come since its beginning twelve years ago," said Vice President Joe "Dazer" Randazzo. "I feel very fortunate that the foundation has been able to assist so many who have had to battle cancer and I am glad to see it is not just the surf community any longer," Joe concluded.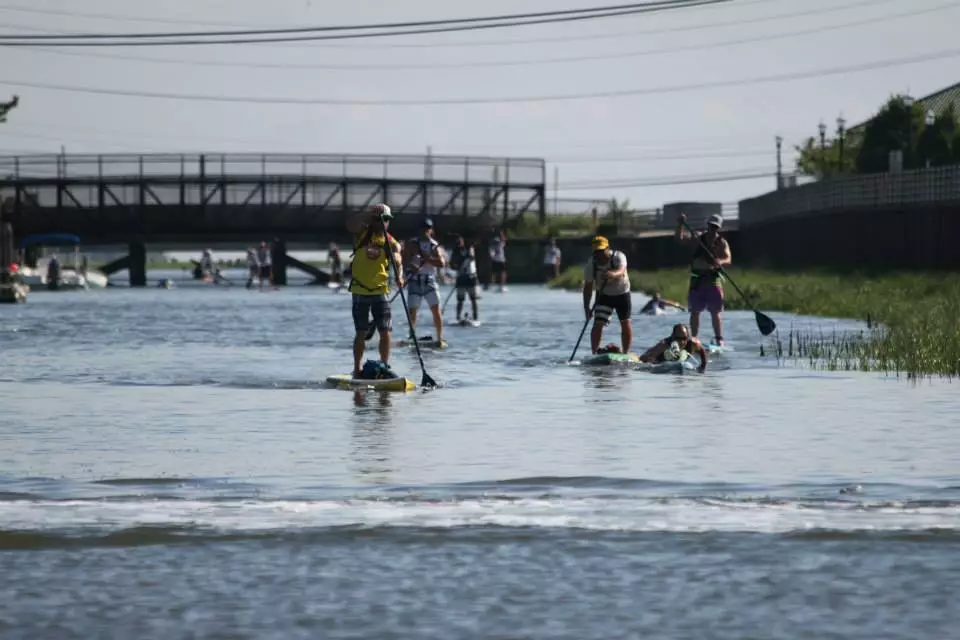 Some paddleboarders fighting for position. (Photo by Dean Randazzo Cancer Foundation)
Congratulations to all the participants of the 6th Annual Paddle for a Cause for not only their sacrifice of time and money to battle cancer but also for reaching toward a cure and coupling donation with endurance.
The Dean Randazzo Cancer Foundation will host its 12th Annual Surf for a Cause on September 7, 2013 in Margate, New Jersey. Look for details and online registration coming soon to deanrandazzocancerfoundation.org
2013 Paddle For a Cause Results

14′ SUP WPA Race Division – Men's 22.5 Mile
1. Sven Peltonen 4:16:12
2. Sean Duffey 4:18:18
3. Paul Giunta 4:26:46
4. Joseph De Stefano 4:33:45
5. Mark Colino 4:36:17
6. John Mahoney 4:37:03
7. Chad Gallagher 4:43:15
8. Andy Giordano 4:45:20
9. Brady Middlesworth 4:45:50
10. Pat Gill 4:46:54
12. Matt Kalwinsky 4:49:04
13. Johnny Siracusa 4:53:15
14. Chris Atlee 4:59:58
15. Drew Edson 5:09:19
16. Adam Walcoff 5:19:45
17. Carter Hanin 5:26:54
18. Darrly Heale 5:33:58
19. Jonathan Baker 5:45:45
20. Greg Errion 5:56:58

12'6 SUP WPA Race Division – Men's 22.5 Mile"
1. Ben Shultz 4:51:45
2. David Bartynski 5:29:58
3. Steve Morrison 5:38:29

12'6 SUP WPA Race Division –
Women's 22.5 Mile"
1. Josette Lata 5:55:32

Unlimited (over 14′) SUP 22.5 Mile
1. Zack Steiner 4:33:25

12′ Prone Paddle Race Division –
Open 22.5 Mile

1. Dan Swenson 4:34:21
2. Brian Pasternak 4:44:34

14′ Prone Paddle Open 22.5 Mile
1. Dave Allison 5:10:50
2. Ryan White 5:18:31
3. Dan Gorden 5:41:06

Unlimited (over 14′) Prone
Open 22.5 Mile
1. Thomas O'Neill 3:51:34 *Course record
2. Ryan Mathews 3:52:50
3. Jason Chew 4:07:00
4. Dan Michaluk 4:14:40
5. Carl Tripician 4:36:25
6. Pat Armstrong 4:57:22