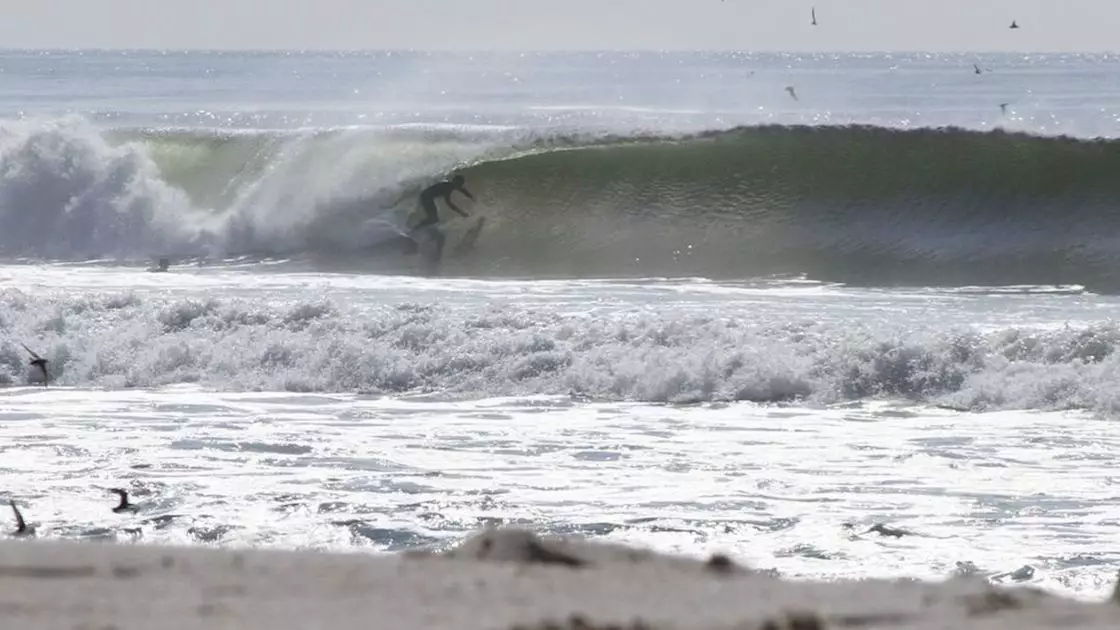 Here's how Long Beach looked… – Photo: Brendan Cannon/Instagram
It doesn't happen often. Epic waves on the East Coast during the summer. But the 2017 hurricane season really stepped things up last week! Hurricane Gert blessed wave-starved Atlantic surfers with solid surf, lighting up spots along the coastline as it tracked north. Everywhere starting pumping, New Jersey, Long Beach, Outer Banks, the list goes on and on, so we've pulled together clips from far and wide! If only it could be like this every August…
–
Riding Gerty
Thomas Larney captured the New Jersey crew shredding everything Gert threw at them! Watch Conor Willem, Pete Machotka, Randy Townsend, and Seamus Carey in this flick.
–
Surfing Tropical Storm Gert
Before Gert was upgraded to a hurricane, Ryan Tomlinson, aka Gromlinson, chased down Ben Gravy to record his epic session in New Jersey…
–
OBX Surf – "Morning Gert"
The entire Outer Banks sucked up plenty of swell, and this short flick from Hendy Street Produxtions gives you a both a drone's-eye view and an in-the-water view of how the surf looked…
–
Surfing Point Judith as Hurricane Gert Swells
Over in Rhode Island, John Woike was on hand with his DJI Phantom to record how it went down at Point Judith as soon as the sun came up.
–
Surfing Hurricane Gert at Ruggles
Same state, different spot, this edit from Tumblehome Productions homes in on Newport, and the awesome waves at Ruggles!
–
Goomer – Surfing Hurricane Gert RI – Aug 17, 2017
More Rhode Island action coming your way from Goomer, who must have been sat out for a while capturing all these clips, this video is over 13 minutes long!
–
Hurricane Gert Surfing | Satellite Beach, FL
Next up we head way down the coast to Florida, where Satellite Beach served up 3 to 4 foot peelers that got everyone out in the water…
–
Hurricane Gert Surfing Drone – Gilgo Beach, Long Island
As the epic run of swell faded away and the sun began to set over Long Island's Gilgo Beach, some quality footage was captured by Drift Away Production…