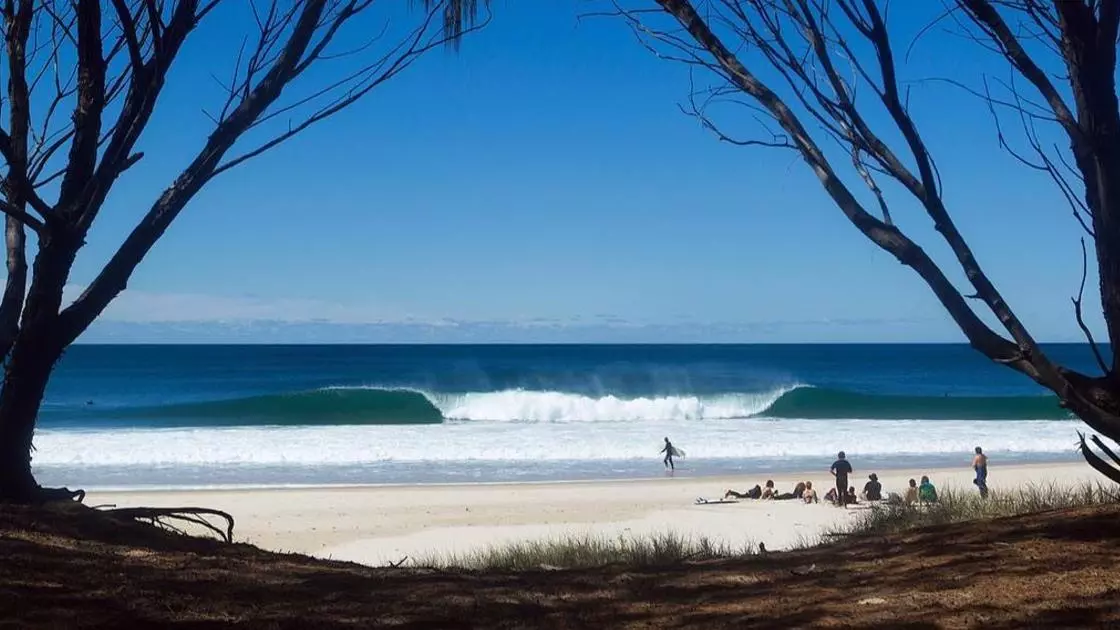 While you're at work somewhere's looking just like this… – Photo: Instagram
Most of us need a little something to brighten up our day, so if you're not getting out there for a surf at least you can stuff your eyes with gorgeous looking… surf. Sorry, you'll have to wait until next time for the hottest surfer girls on Instagram, but at least you've got something more to look forward too. See, things are looking up already!
Fill your Instagram feed with premium surf porn thanks to these talented shooters putting themselves perilously in the impact zone just to snap off a few frames. Ok, so sometimes they're shooting from the land, or maybe a boat bobbing around on the shoulder, but their photos are still sick!
Ever tried to backdoor Mavericks? Didn't think so
Straight outta Santa Cruz, Ryan 'Chachi' Craig has been shooting since he was 20 years old. Over the years he's been at it he's got pretty damn good at it, and in the process scored a job at Surfer magazine, but that ain't all. The chances are high that you've seen one of his shots on a cover or spread if you've flicked through a few surf mags in your time…
–
He obviously hasn't seen the charter boat approaching yet
This Chilean photog is all about action sports photography, splitting his time between the ocean and the mountains. On call for industry giants like Red Bull, Patagonia, and The North Face, Juan Luis de Heeckeren has carved out a tasty piece of the pie down in South America. Luckily he posts all his greatest shots on Instagram for us all to see!
–
Shieldsy putting himself right in the firing line
Andrew Shield from the Gold Coast, or simply Shieldsy to the editor of Australia's Surfing Life magazine, is nothing short of a surf photography extraordinaire! Jimmy O'Keefe from WorldProSurfers claims, 'He shoots with the accuracy of a KGB marksmen and the work ethic of a coal miner'. Now if that's not a glowing reference I don't know what is!
–
If only every day could be like this…
Trevor Moran is a man who knows what it's like to be either side of the lens, being an amateur surfer who starting competing from the wee age of just five years old! He's from Ocean City, New Jersey, and after switching from surfing to shooting he found himself winning the Follow the Light Award in 2013. Now he's getting his photos published all over the shop. Bravo!
–
Now that's what you call tubular
Now here's Ray, a guy who only got his hands on his first camera in 2007, but now has companies like Nikon and RVCA actually supporting him! He took 1st place in the 2015 Australian Surf Photo of the Year and was a shortlisted finalist in the Smithsonian Annual Photo Contest the very same year. Full name Ray Collins, nationality Australian, perhaps the most surprising thing is that his talents are entirely self-taught…
–
Bet you he's taken a piss in his wetsuit
Mr Chris Burkard quite literally blows the competition out of the water with his 2.3 million followers and counting! Quite how he's amounted such a ginormous following is a question he's probably asked himself on numerous occasions… But before any insinuations let's get one thing straight, no one's saying his photos aren't good, 'cos they're absolutely positively fricking unreal! But you're already following him right so you know that?
–
Think we've missed someone off the list? Then add 'em to the comments below!