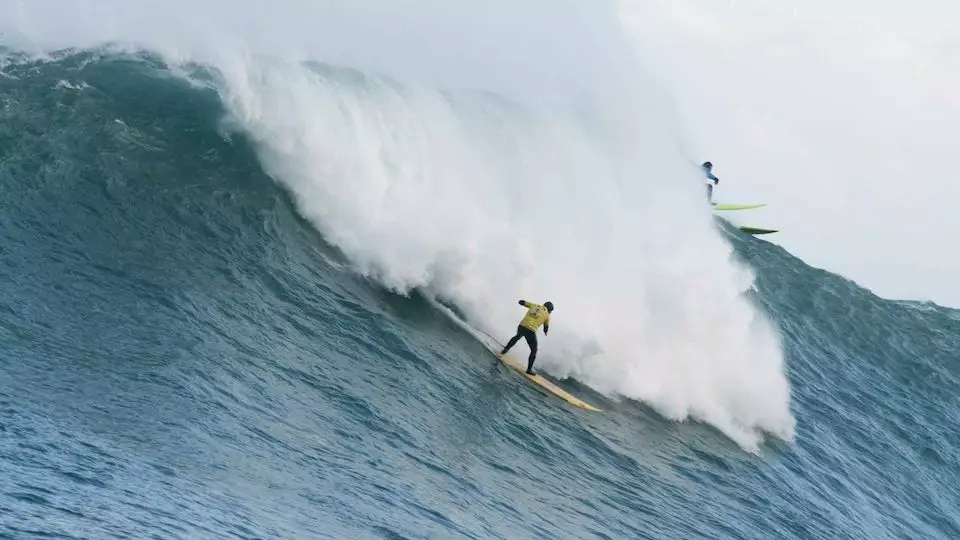 Ollie O'Flaherty takes off on a monster at Oakley's La Vaca Gigante big wave invitational – Photo: Sergio Garcia
Ollie O'Flaherty. There may be no cooler name in pro surfing. But luckily for us, his talent goes way beyond his moniker. Ollie hails from Lahinch, Ireland—a quaint village in the SW that's developed into a surf town with an abundance of surf shops and schools, including Ollie's Surf Academy. Main Street fronts a massive cove that churns out a consistent beachbreak and well-worn spots like Crab Island and Spanish Point are within a short drive.
The area is surrounded by the quintessential rolling green hills and emits a calm, laid back vibe. The Guinness is as sweet as the locals' smiles are friendly. It's one of my favorite places on Earth.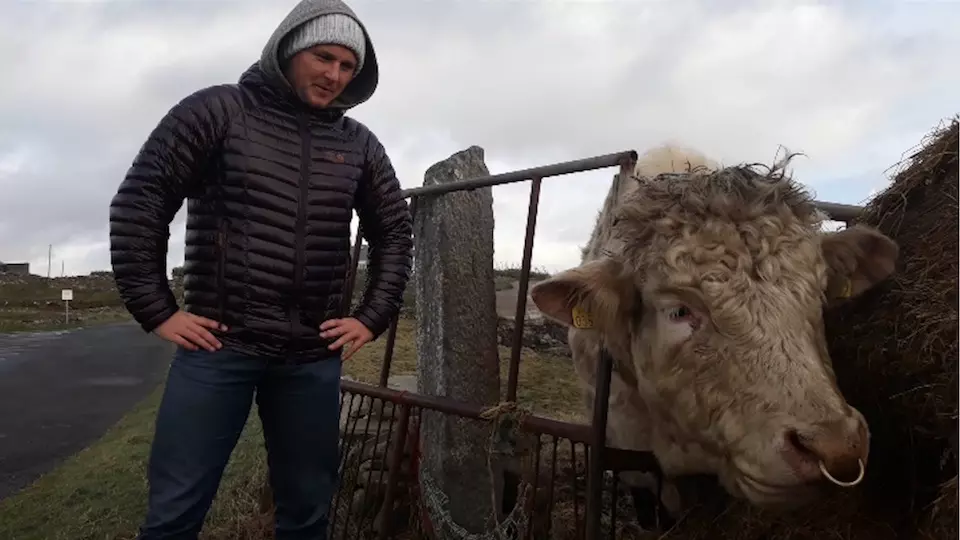 At home on the Emerald Isle!
But you don't carve out a professional career in Ireland with roundhouses and lip smacks. This ain't Orange County. In Ireland, you make a name for yourself by paddling out in gale force winds, surfing waves like Rileys that break over near exposed rock and dropping into Aileens when it's twenty feet and growling like an angry wife. There's often no sun. The water's cold. The air is colder. The rock shelf you'll inevitably bounce off doesn't ever give. What it takes to be a pro surfer in Ireland is a big bucket of NOPE for most.
Ollie O'Flaherty at Mullaghmore - Verizon Wipeout Contender in Billabong XXL Big Wave Awards 2012
Ollie's entry for the 2012 Wipeout of the Year Award!
But Ollie wouldn't have it any other way. He's all smiles when he's standing on a wave lashed shore, recounting spitting barrels, mimicking thick lips with his 7mm gloves. He's thrived on the harsh conditions and appreciates the commitment all Irish surfers must have, giving a quick nod to those around him like seasoned vet Richie Fitzgerald and young guns, Gearoid McDaid and Conor Maguire.
The XXL Biggest Wave Nominees in the 2012 Billabong XXL Big Wave Awards
O'Flaherty joins Garrett McNamara and Andrew Cotton for the XXL Biggest Wave nominations
Particularly for a small island nation, Ireland has produced a slew of hard chargers. In addition to Richie, Gearoid and Conor, you've got Fergal Smith, Andrew Cotton and Tom Lowe to name only a few. Ollie's fed off this gladiator pit of talent to make his own mark with two entries in the 2012 Billabong XXL Awards for biggest wave and worst wipeout from a ridiculous session at Mullaghmore in the NW and another wipeout finalist showing in 2015. All of which happened on forty-foot behemoths that'll make your stomach turn. Hope you like the taste of bile.
Ollie O'Flaherty at Mullaghmore - 2015 Wipeout of the Year Entry - XXL Big Wave Awards
Try watching this without wincing…
Asked about his goals for surfing, Ollie said longevity through breathing techniques and yoga. He's a stocky, fit bloke and looks to be doing the right things to keep taking those drops into insanity for years to come. Of course, his other goal was to pioneer virgin waves around Ireland, but he's not giving a whiff of where he's looking.
Keep your eyes on this hard charger from the Emerald Isle, as well as, his countrymen. These lads are pushing limits at barely rideable breaks. I'm not even sure 'slabs' is the right term. Is a slab still a slab when the wave is forty feet?