Californian photographer, Chris Burkard, is blowing up. There's just no other way to say it. Not yet 30, the prolific photographer is a Sr. Staff Photographer for Surfer Magazine, has bagged some of the craft's biggest awards (list is below) and has just published his third book, Distant Shores: surfing the ends of the earth. He's worked with everyone and has been everywhere. In fact, the latest book alone took him to Alaska, Chile, Christmas Island, Iceland, India, Japan, the Caribbean, Central America, Russia, Norway and New Zealand. Whew…
But why Chris? Why out of the sea of lensmen has he risen above in a very short period of time to join the elite few that make photography their full time gig? Because he's changed the game. Burkard has developed a signature style that identifies his touch before you even look at the photo credit. And I believe it's to the level of '60's icon, Ron Stoner, whose images still hold his mark a full 50 years later.
Burkard's passion and signature are his incorporation of the landscapes to a degree that no surf photographer has done before. While he can, undoubtedly, nail the barrel or air shot, his real talent is a pulled-back perspective that captures the overpowering presence of the surrounding place. Rivers flow through entire valleys to form sand banks. Snow covered mountains melt into the ocean while the Northern Lights dance across the sky above. Verdant hillsides stand over endless barreling peaks. As a result, the images provide a 'lay of the land', allowing the viewer to develop an understanding of the wind currents, the bathymetry of the break and the components that make that wave fire. And amidst it all, is the seemingly inconsequential surfer, because as Burkard said, "the hero is the landscape". Yet, the surfer is the one element that injects humanity into an otherwise vacant (though beautiful) landscape and plants the idea that we could ultimately find ourselves on those distant shores.
His images are gigantic and are best if revisited over and over again, which is exactly why his book, Distant Shores: surfing the ends of the earth is a perfect stage for his work. In the glow of its launch, I spoke to Chris about his work. Check out below for our full conversation.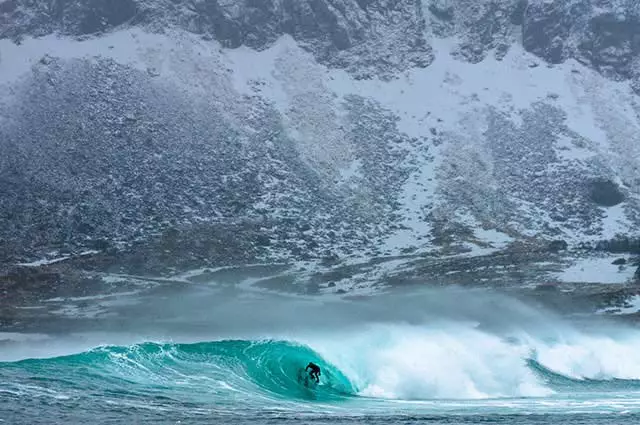 Photo: Chris Burkard
In your interview w/ Steve Crist in the beginning of the book, you specifically mentioned that places like Iceland and Norway inspire you the most. Why is that the case? Do you lean towards the colder places vs the warmer?
I definitely find myself drawn to the colder regions of the world. The beauty of cold water surf is often the work it takes to score waves that no one else is willing to surf. Most of my memories are all moments of pain or suffering while in these chilly conditions. These stories make a trip exciting to relive, and the chance of scoring great waves or seeing beauty out in nature is all a bonus.
Particularly as a photographer, such stormy places as Norway, Iceland, Russia and Alaska must pose huge challenges w/ regards to proper lighting and conditions. How do you overcome those to get the job done?
The weather is probably the most unpredictable element of a surf trip in the arctic regions. Some days, we would pull up to a spot with clear skies and within 20 minutes we were amidst a blizzard. In Iceland, the weather is constantly shifting and it seems every 30 minutes brings a new weather front. Because of that you have to put in a lot of time traveling and waiting. Work days never really end because, right when you want to call it a day, the light can get perfect and you have to be willing to drop everything and go shoot.
Favorite place out of all those in the book?
That's a really tough question. There are aspects of each place that I love, but I would say it's between Alaska and Iceland. I have traveled to Iceland over 8 times so that's somewhat of an indicator of how much I enjoy exploring that country. Alaska is similar in regards to the beauty of landscape and nature, but Alaska really does feel like the last frontier. It's so remote, there's much more to explore. I think I could spend a lot more time searching the coastlines for surf.
For me personally, the most striking images are those that incorporate gigantic landscapes that dwarf the surfer caught in the frame. And those images are unlike any I've seen from surf photographers. What elements of your landscape photography do you most draw upon? What are you seeking to portray with those specific images?
When I approach landscape photography I focus on composition and light as my main elements. The hero is the landscape and, similarly, that is often how I approach my surf photography. Ideally the image could stand as a landscape without the action and people are drawn to it as a natural landscape only to then see the surf component within that. I try to portray the bigger picture in those images. The story beyond just the wave. Often the waves I am traveling too have just as interesting of a story and scene around them as the wave itself and I do my best to show that complete story to the viewer.
Favorite surfers that you've worked with (and Sam Hammer is a good answer – I suggested, while laughing)?
Sam Hammer really is one of my favorite surfers to work with. He is a down- to-earth, humble guy and always willing to get out in the water to get a shot. I love when surfers embrace every aspect of a trip or session–both the good and bad. Some of my favorite guys to work with are the Malloy brothers, who I have traveled all over with. We have a solid relationship where we have been able to connect in so many ways beyond surfing. The Gudauskas brothers are always great to work with too. They keep everything full of stoke and joy. Even when everything is going haywire, they find some positive aspect and it really is contagious.
How much post production work do you do w/ your images, if any?
Shooting digital, I definitely have post production work after every shoot. It involves uploading images, organizing them, color correcting them, and then sending them out. I use programs like Photo Mechanic and Lightroom to help me through this process, but try not to over edit my images in the process.
If you could give a starting photographer one piece of advice what would it be? And what is the first camera/accessory that you'd recommend they pick up?
Besides constantly shooting to improve your portfolio, my best advice would be to find a professional photographer near you, whether they are in the action sports/ skate industry or not, and try and intern/assist them in any way possible. Being exposed to the business side of the industry will give you a huge leg up as you progress in your own photography. Being able to see how a professional handles jobs, goes through their workflow, and ultimately how they make money doing what they love is a huge help. Sometimes magazines hire interns or assistants which would give you a very similar exposure and really help you see how photography works on the business side. I also took some art classes in the beginning of my career to learn more about composition and what creates interesting pieces of art in general. A lot of those basic elements of good art apply to everything from painting to photography. Besides that, as you shoot more and more your work will progress and as this happens people will begin to take notice.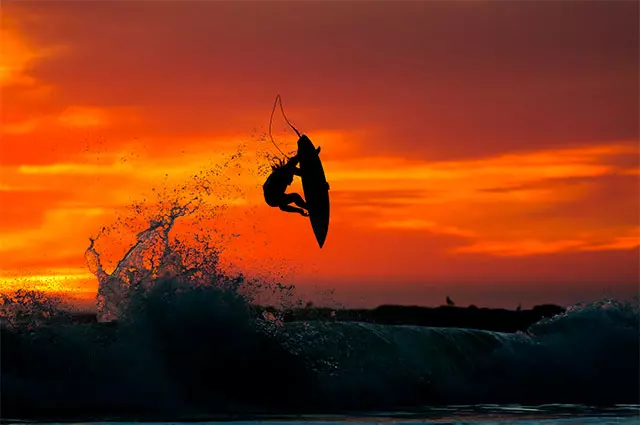 Photo: Chris Burkard
As far as first cameras go, it really is up to the user. Canon, Nikon, Sony all make great cameras for surf photography that produce similar great results. I would go test ones like the Nikon D300s, Nikon D7100, Canon 7D, Sony Nex-6. Whichever one is easiest to use, feels best in your hand, and is more intuitive for you is the one I would get. Great photographers can really create amazing images no matter what camera is handed to them.
What do you want to portray in surfing that you haven't yet?
I am not sure if there is something I am necessarily looking to portray, but am always looking for that next frontier for surf and photography–to go to places that have untold stories or unknown waves. I am drawn to landscapes and cultures that are relatively untouched and remain unique in a world that is becoming homogenized.
What artists (photographers or other) do you admire?
There are so many people that have influenced me and continue to influence me, not only as a photographer, but as a person. There are many artists, mostly impressionists that inspire me as well. A few photographers that I would like to give credit to: Henri-Cartier Bresson, James Nauchtwey, Michael Fatali, FLAME, Pete Taras, Nate Lawrence, Patrick Trefz, Joe Curren, Jeremiah Klein, and Ron Stoner. I also feel really influenced by a lot of younger photographers… I don't think that you need to be some 30 year plus staff photographer to make a difference… Look at guys like Todd Glaser and Zak Noyle, also Mickey Smith and others that are constantly reminding me how quickly surf photography is evolving especially in the underwater world.
Well, thanks a bunch for all your time, insight and work, Chris. We look forward to seeing what you continue to create. Keep in touch and take good care.
---
Awards
Morro Bar Art Society Award 2005
Follow the Light Foundation Grant Winner 2008
Red Bull Illume Winner Illumination 2010
Red Bull Illume Winner Overall Competition 2010
LOOK BETWEEN Invitee 2010
The World Open 2nd Place Winner, Open Category 2012
Books
The California Surf Project – Chronicle Books 2009
The Plight of the Torpedo People – DAP books 2012