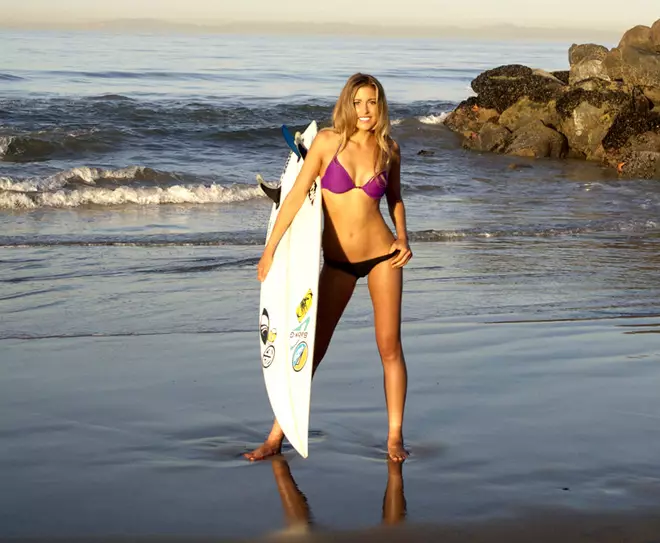 Photo: http://www.ericahosseini.com
Women's pro surfing needs Erica Hosseini. She's the package that provides the answer to what it's been looking for since Lisa Andersen won her world titles. Why? Because she's putting it all together with ridiculous beauty, a nerd-level love of technology & social media, raw surfing talent, a penchant for branding and smarts. And unfortunately for you Newport Beach hipsters, she's got the last bit in spades, so good luck w/ the bar rhetoric that works on the masses.
Steph & Sally rip hard–no doubt. Alana's all about the hot. Tyler Wright will snag multiple titles and be the first to pull a rodeo. Coco will keep the Ho name in the spotlight for years. But they could all take a few lessons from Erica.
If Erica can overcome a slew of injuries (multiple hip surgeries have plagued her in the past year), she could make a real bid for a spot on the 'CT. But her presence needn't be about the title because her power lies in the charismatic energy that allows her to transcend her abilities in the water and take the sport to another level within mainstream media (remind you of anyone else?). Erica is a force whose brand touches skateboarding, surfing, Hollywood, the tech world and modeling. She could be a vital link to extending women's surfing beyond its current confines and much more in the public eye. Take, for example, her event hosting abilities. She's done gigs for Yahoo's GrindTV, E, ESPN, Fuel TV, Access Hollywood, CBS Sports and Nylon TV and she kills it. She's confident, clear and knows her stuff. She's like a hot version of Erin Andrews.
You want tech? Okay. She created and built www.EricaHosseini.com, which includes Where'sErica -a video blog of her travels that will make you see Waldo in a whole new light. Plus, she's often the go-to for fixing the tour girls' gadgets when things go wrong.
Not good enough? How's about the model stuff? She's bagged covers and pics in the LA Times, Men's Journal, Defy, Stab, Surfer, Surfing, What? OC Weekly and so on… The camera loves this woman and her sponsors haven't missed a beat, utilizing her as their ultimate personification of 'California Dreamin'.
But above it all, she's sharp. She understands how to develop opportunities and, if need be, smash the walls that stand in front of what she wants. The only people that won't follow her are those that judge the book by its cover or those who are intimidated. Erica's your teenage dream that could eat your ego alive, in and out of the water.
TheSurfersView tracked Erica down for a quick chat recently (not exactly one of my harder writing gigs), so check out below for a few insights on this beauty who surfs 10x better than you…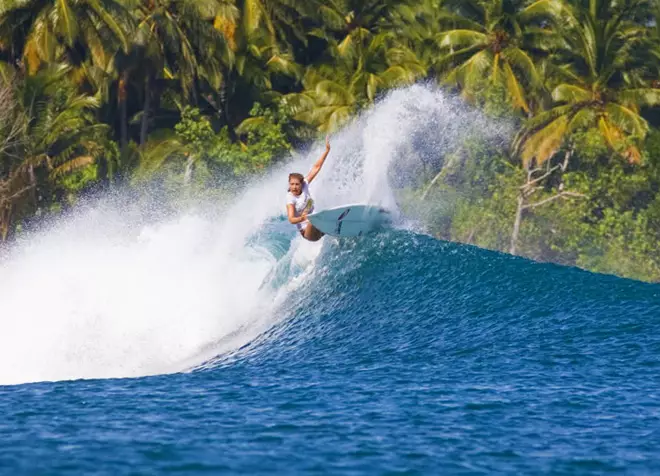 Photo: http://www.ericahosseini.com
TSV: Hey Erica! Great to meet you! Ok, so tell us what surfing means to you?
Erica: Surfing's everything to me. It's not only my job and livelihood but it's my favorite thing to do. It's my passion and I can't imagine life without it…or life without a beach at least 5 days a week (Laughs).
TSV: You've had a solid competitive career (including the record for the youngest finalist in a WQS) and are livin' the life as a freesurfer–do you lean towards one more than the other?
Erica: I love competing. Unfortunately I've been plagued with some injures for the past few years. I recently had a hip surgery in late March and am finally recovering from all the others. So moving forward, I will definitely be leaning towards more competitions and really training for the 2014 WQS season.
TSV: What surfers/athletes (men or women) inspire you?
Erica: As cliché as it sounds, I have to say Kelly Slater! It's just so great to see someone still ripping so hard and winning every event at his age and not throwing in the towel. It's inspiring and encouraging. Especially when most of the tour consists of Under 25 year olds, it's inspiring to see Kelly still owning the sport.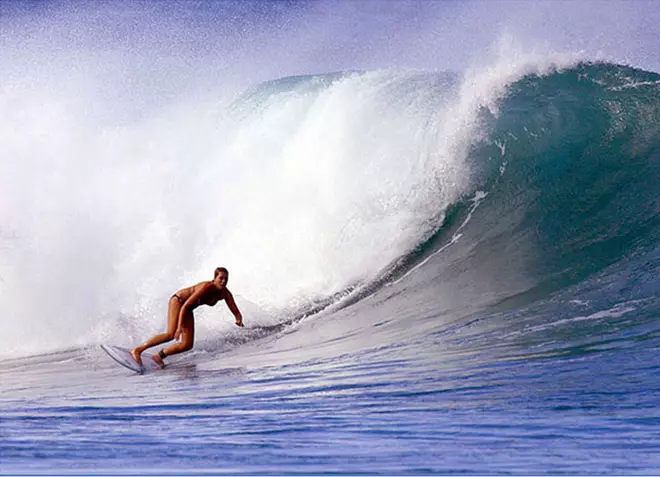 Photo: http://www.ericahosseini.com
TSV: You're currently ranked 58th on the World Ranking. What are your plans to grab that World Title?
Erica: Well I'm very far away from the "world title' (Laughs). But I would like to get some results and make a showing on the WQS and hopefully qualify. I am going to be spending the rest of 2013 fine tuning my surfing so I can do better on the tour.
TSV: You've created an incredible marketing engine with your sites and have undoubtedly developed the'Erica Hosseini' brand. How important has that been for your career?
Erica: The websites started off as a hobby and just a fun thing to do on the side. It wasn't long after that it really got the surf world's attention and I started making it a marketing tool for myself and my sponsors. Now I love it and really enjoy making videos and keeping my fans up to date on everything that I get up to. I am so fortunate to have incredible sponsors such as Oakley and Baby-G and they put on such amazing events that I'm able to attend, so I love sharing those on Where's Erica? It's very important to me and I love having that as part of my brand.
TSV: What's next? Where do you want to take your career? Commentating, Surfing, Modeling, Other Stuff?
Erica: I want to keep my foot in every door. I wouldn't just want to commentate or just model or just surf. I think combining everything keeps me motivated to do EVERYTHING. It keeps it fresh and nothing gets repetitive or boring. I really enjoy all the opportunities that I get to do. Every week of my life is different depending on what door opens, and that's what I love.
TSV: Well, thanks heaps for taking some time to talk to us. Good luck with all your endeavors!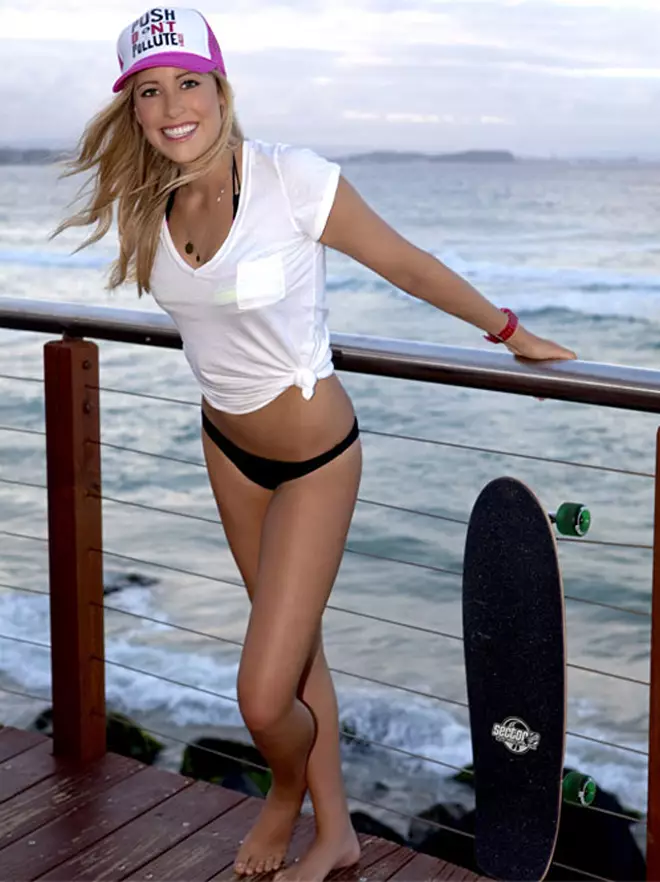 Photo: http://www.ericahosseini.com
Erica's Competitive Hightlights
• 2004 Fosters Cup – 3rd
• 2004 National Open Women – 2nd
• 2004 OP Pro – 1st
• 2004 ISA Jr. World Championships, Tahiti – Bronze Medal 3rd
• 2005 Volcom Championships – 1st
• 2006 Target Pro Jr. -3rd
• 2007 Roxy Pro Jr. – 1st
• 2008 Volcom Championships – 1st
• 2011 Volcom Championships – 2nd
• 2011 Pantin Spain – ASP Quarterfinals – 5th
• 2011 Budlight Lime Pro – 4th
• 2012 Association Pro Surfing Series – 1st
• 2012 Association Pro Surfing Series (event #3) – 2nd
• 2012 Association Pro Surfing Series – Championship Winner