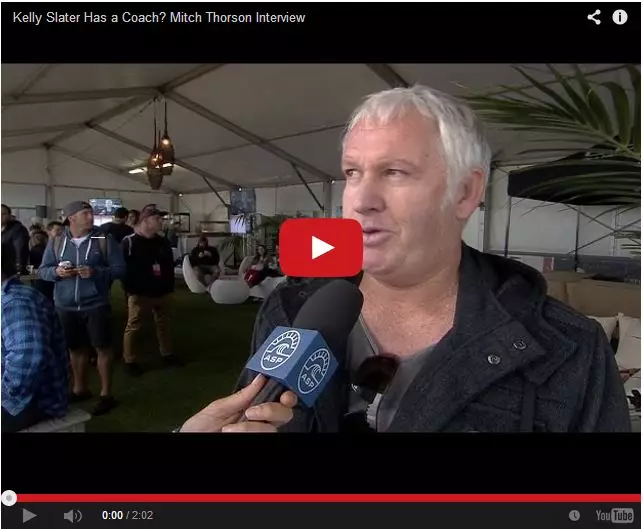 Mitch Thorson interviewed at the Margaret's River Pro.
As if Kelly Slater isn't already the best surfer on the WCT, he rolled up to the 2nd stop on the world tour—the Drug Aware Margaret River Pro in Western Australia—with a coach in hand. The buzz was palpable at the contest site from the constant speculation by commentators to the YouTube posted interviews with the coach to the far away camera shots of Kelly and the coach in the parking lot. People. Were. Freaked. Out. I mean, what could someone possibly tell the 11x World Champ that he didn't already know? Turns out, a lot. So, who was this mentor to the King? The seer of things beyond the greatness? It was Margaret River local and legend, Mitch Thorson.
Mitch Thorson hails from Western Australia, born and raised on raw Rottnest Island, which sits 12 miles off the coast of Perth. Born with balls the size of Russia, he quickly had a deep love of big, thick waves and thrived when the buoys made most guys come up with excuses to do everything but surf. He became a favorite son of the Margaret River area after being drawn by the array of empty, bombing spots and pristine coastline and naturally fell into friendships with such XXL chargers as Damon Eastaugh and Courtenay Gray (2x Oakley/ASL Big Wave Winners). But Mitch was no big wave one trick pony, as he found competitive success on the world's stage too. He was Western Australia's Juniors Champ in 1980 and 1981, placed 2nd behind Mark "Occy" Occhilupo in the 1984 Pro Junior and enjoyed many years on the pro tour, placing in the coveted Top 16 in 1986 and 1987. After Mitch finished with the world tour, he went on to coach Taj Burrow for the WCT and, most recently, Jacob Wilcox who just grabbed a wildcard at Bells Beach-stop #3 on the tour.
Having spent some time with Mitch in Ireland and Australia, I am also honored to say that I personally know him as a funny, quick-witted, family lovin' guy who is as straight shootin' as they come. I guess when you've taken as many 20ft drops as he has, there just doesn't seem much reason to really bs about anything.
So, even with Mitch's credentials, the question still has to be bouncin' around in your head–Why did Kelly Slater need a coach? The answer lies in the break itself. Margaret River is a deceivingly difficult wave. From shore, it looks like a perfect A-frame on a finger of reef that actually boasts several great waves. The paddle out seems easy and the line-up is reasonably defined. But spend one session out there and you'll know that things are not as they appear. Shallow reefs and hideous rips mix with a variety of swell direction to serve up conditions that can change with the tides. "Shitty Margarets", as Mitch described conditions for the contest, requires a technical approach to the wave that all but eliminates a bottom turn. While Mitch won't give up the specifics, Margarets requires a more drawn out approach at certain times. Kelly noted in post heat interviews that there was often no lip to bash, so to come off the bottom too hard only made you waste energy and blow through a section. But then if a serious swell were to have filled in, the approach would have been more about negotiating massive drops, putting much of the WCT into survival mode. In a nutshell, Margaret's is a hard bugger to figure out.
Read below for Mitch's thoughts on Margaret River, Kelly and heat strategy.
…And thank God you'll never have to draw this lethal combo for a heat.

Kelly Slater hanging out before a heat
---
TSV: So, all's well, eh?
Mitch: Yeah, everything's going pretty well. My real estate job is going well and the family's good and all. You know a couple of guys at the event asked if I was going to go to Bell's with Kelly and go back on the tour and I thought, 'fark, the last thing I want to do right now is go back on the tour , getting on and off planes all day long. (laughs hard at the notion)
TSV: But you're blowin' up right now!
Mitch: Oh shoot, I couldn't get back on the tour again, mate.
TSV: So, how long have you been in Margaret River?
Mitch: We've been livin' here about 10-11 years [but he's been going for decades more].
TSV: So, Slater brought you back to the coaching side of things?
Mitch: Yeah, well, I've been friends with him forever and when he made his comeback in '02, '03, he asked me to help him get his confidence back [for competing]. In the early '90's, he and I hung around in Hawaii a lot and for a couple of years he and I were the only ones that stuck around after Christmas to surf Backdoor and Off-the-Wall. Then for his comeback in '02 or '03, he asked if I could give him some advice.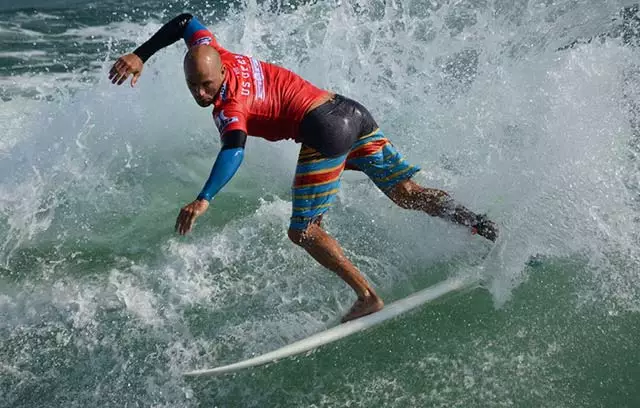 Kelly Slater surfing at the U.S. Open of Surfing in Huntington Beach, California
A few months ago, some tour guys asked me to coach them during this event and I called Kelly and said, 'I want to work for you, if you want me too,' and we did a deal and that was that.
TSV: it brought you back out into the limelight. It was awesome to watch.
Mitch: I actually didn't realize til later on in the event what was going on. I didn't realize how much they were filming him during his heats and before and after his heats. It kinda caught me by surprise. It was funny, because, to be honest, I didn't really expect that.
TSV: Well, one of the reasons I asked to talk to you after the event was because it was so obvious that everyone was trying to pick your brain as to what you were telling Kelly and you were just giving absolutely nothing up. It was like a brilliant chess match.
Mitch: (Laughs really hard) I was wondering if anyone was picking up on that, because it was like trying to talk without really saying anything…I was trying to talk more about my real estate business. (Laughs)
TSV: So, how do you give advice to the 11x World Champ and greatest surfer ever?
Mitch: Well, to his credit, he's intelligent enough to know that you can always keep learning. I can only guess, but I suppose he doesn't have a huge number of people that he can bounce stuff around with and he knows that I'm not going to bullshit him and that I'm going to be painfully honest with him. I'll also just say, 'you're paying me to give you advice and my advice is X,Y,Z' and he can tell me to beat it if he wants, but he hasn't yet. (Laughs) But he knew that I knew the wave at Margarets really well and he hasn't surfed it that much and there's a lot of…uh…geographical information and knowledge that I gave him about the line-up and getting caught inside. Because what happens to you out there is really unique. So, I passed on a lot of that stuff.
Also, I told him that in my career, I beat 10 world champions in heats and the two reasons were that 1) I had a really good plan and 2) I had the concentration to be able to execute the plan. So, I said to him that the tactics we were talking about were those that I would use to try to beat him in a heat. 'A,B,C are the holes in your competitive act and this is what I'd do to capitalize on those and if you go out there and do what we're talking about, no one will fucking beat you'.
Slater Board Breakdown at Margarets River Pro.
In my opinion, he's still the best surfer in the world and still has the drive and to be honest, I don't think people realize how good he is. I think he's underrated. I mean, he had a wave against Parko that was easily a 10 and they gave him an 8.5. I mean, these are the best judges in the world and I don't know how they didn't see how incredible that wave was. He's fucking miles in front of all of these guys. There's areas where some guys are close to him. Parko and Jordy have the power carves, which Kelly's got too. John John's the only guy that can match him in the tube. And then other guys have more going on in their air game, but Kelly can still match it. I don't see anyone out there who's got the variety he's got or the skill level. You could say that Medina has more variety in his air game, but it's the whole act [that Kelly's got]. Watching these guys at Margaret's, it really became evident that a lot of these younger guys struggle with waves that are small and punchy or bowly—waves that demand power, drive, carve and real commitment to your rail. A lot of those guys were found wanting, I thought.
TSV: So, you talk about even just getting caught inside and 'geographic knowledge.' What's so different about Margaret's than anywhere else?
Mitch: Well, I do a lot of freediving out there and just knowing how the water moves and to use that to your advantage or to recognize if you're in a dead zone where there's no escape. To know when it's time to paddle back out or jump on the ski. A lot of it is about saving time. There were 2 or 3 heats that I saw during the event where, if a guy had another 5 seconds back in the line-up, then he might have gotten a wave and got through the heat.
In Australian rules football, there's "1%'ers". I'm not sure if they call them that back in the States. But it's the guys that concentrate on the little things that make them look really good….those unrecognizable things that make the difference. I'm really into that sort of thing. And you know, at the top of a sport, it's the details that give guys the edge. If you watch Jordy Smith in full flight and a big facing wave like Bells, he's awesome. So, if you draw him in a heat at Bells, you have to use every little thing you can to gain the advantage in the heat. Sometimes that can be where you paddle, when you paddle, what sort of pressure you can put on the other guy, etc. That's the sort of stuff I get into.
TSV: The nuances are incredible and how you think about them. Are you open to coaching again?
Mitch: Honestly, my real estate business is starting to really go well and I'm able to surf Margarets etc and I'm not sure I'd want to change that. But maybe down the road, if someone really wanted to do it, I don't know…The other thing is that I've been involved with Julian Wilson, Jordy Smith and Owen Wright, so if one of those guys put it on me, I'd consider it.
I mean, Kelly, who knows how long he's going to go. I don't know…I don't know if he knows. I do know that he's just a hardcore surf fan. Sometimes I wonder if he realizes [just how good he is]…I mean we talked about the fact that he could do this for a while, if he wanted too. I don't think he knows what he's going to do. He's just so keen on surfing, even after all this time. He's as amped on surfing as ever, I reckon.
A more personal look at Mitch. From ApiaGoodLife.
TSV: Overall, were you happy with how he did, besides him not winning the whole thing?
Mitch: As the event rolled on, he wrapped his head around what we were trying to do and the breaks in the event really helped to try to get that message in there, because his mindset improved through the event. But like him, I was bummed he didn't win. But I'm hoping that this event is the catalyst for the rest of the season. And I'm going to stay in touch with him through the season and we talked about sticking to the plan. But who knows…we'll see what happens.
TSV: The one other thing I wanted to ask you was about Kelly's comment that you can't really make a full bottom turn at Margarets. So, how do you coach around the most fundamental thing you could do on a wave?
Mitch: Yeah, that's one of the things that we put a lot of time into and I'm going to keep that under my hat. (Laughs) Because there's a technique that works really well that he started working out as the event unfolded and that was why I said the couple of days break was really beneficial because Margaret River is a wave that when it's shitty, like it was, and really hard to surf, there's certain lines you have to take to deal with that. And needless to say, being the genius that he is, he worked it out and there were a couple of turns he did on the last day that were pretty crazy. And that's all I can really say.
TSV: So, you just gave me one of the bullshit answers that you gave all the guys during the contest! Are you serious? Come on!
Mitch: (Laughs really hard) That's one of my key weapons in the arsenal! You gotta keep some cards up your sleeves…sorry about that. (Still Laughing)
TSV: What could he have done differently during the contest?
Mitch: I would have just liked to have seen him put a bit more time in the line-up before the event. That's really it. It's just such an unusual wave. It takes a bit more focus. All the other waves on tour are pretty straightforward—points or reefbreaks—but Margarets is really fickle and unusual and needs a bit more care and attention.
At the end of the day, he stuck to the plan. But [against Bourez], he had one wave where if he made the air, he made the heat and he didn't make it. And then he had priority and he went for a smaller wave and that gave Michel priority and the best wave of the event came in and that gave him the score. It was a tactical error really. And Kelly knew it. He came in and said 'Don't say it, don't say it'.
There's a lot of stuff that I can't talk about with the event, but that was essentially the turning point right there. That was the event. If he had stayed with the priority, then Bourez doesn't get that wave. So, it was just a tactical mishap, really. You know you have to decide if you go on one and sometimes that decision works in your favor and sometimes it doesn't. That's competitive surfing.
TSV: Well, thanks again for your time and nice job with Kelly.
Mitch: Thanks, mate. Great talking to you and stay in touch. Cheers.