Frothylip: Puerto Rico Teaser

In February, many of the world's top surfers gathered on the beach at Jobos in Puerto Rico for the 4-Star rated Rip Curl Pro. This was a big comp for a bunch of reasons. Heaps of WQS surfers used the contest as a launching pad for their 2013 campaign, eager to get the year off to a good start and grab some early points. At the same time, a host of WCT surfers used the Pro to get their feet wet again in preparation for the elite tour slated to start in just a month. The roster was littered with noted names like CJ Hobgood, Taylor Knox, Chris Ward, Gabe Kling, Evan Geiselman, Cody Thompson, Andrew Doheny, Cory Lopez, Nathaniel Curran, Asher Nolan, Dillon Perillo and Ben Bourgeois. And that's not even mentioning the local heavyweights like Dylan Graves, Wesley Toth and Brian Toth. Heats were packed with talent and everyone was in a fightin' mood.
Yet, the guy who cut a swath through all of it was New Jersey's own Rob Kelly, who made it to the Semis with patient, hot surfing. It was no surprise to any of us here in the Garden State, but Rob seemed to attack under the radar, stunning those in his heats, on the beach and in the commentator's booth. I took great pleasure listening to those in the booth marvel at Rob's strategy and style as he dismantled the likes of Dylan Graves, Wesley Toth, Perillo and Bourgeois in tricky conditions.
To say that New Jersey was proud of Kelly's effort would be an understatement. Facebook was lighting up whenever Rob hit the water for a heat and the well-wishes grew with every round he made. It was one of those moments when you were damn proud to be a NJ surfer.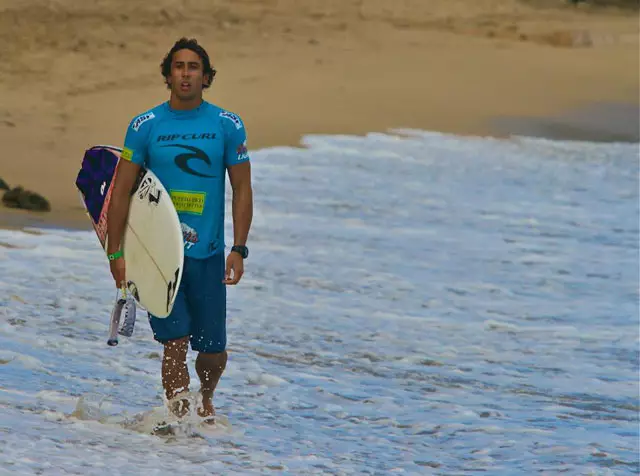 Photo: Rob Kelly @ the Rip Curl Pro in Puerto Rico
We got a few minutes with Rob after the comp and here's what he had to say:
---
TSV: What was your mindset going into the contest?
Rob Kelly: I spend time in Puerto Rico every winter to escape the cold and flat spells in Jersey. It's a quick and easy trip and you're almost guaranteed to do a lot of surfing when you go. When they announced that they were going to have a 4 star at Jobos, I was psyched and planned my trip around that. Anytime I'm surfing in an event, my mindset is on doing well, but there was a little less pressure as I didn't go to Puerto Rico just for the contest. I stayed 2 minutes from Jobos, so I was super confident after surfing there every day for two weeks leading up to the event.
TSV: How was it beating some big ass names, including some heavy Puerto Rican surfers who had heaps of support?
Rob Kelly: It always feels good to beat some of the guys you look up to. When the heat draw came out before the contest and I saw guys like CJ Hobgood, Taylor Knox, and Chris Ward I was stoked just to have the opportunity to compete against them. Had someone told me before the event that I would place higher than those guys, I would have had a hard time believing it. Competing against the locals was pretty heavy. They know the wave so well and they are not afraid to push you up against the rocks to hold position. Whenever any of those guys even paddled for a wave the entire beach erupted. When you hear the beach go crazy like that you assume they must of scored a 10. The first heat or so it kind of got to my head, but then I realized the beach was going to cheer for their guys no matter what, so I just tuned them out and focused on my own game plan.
TSV: What was your strategy and what do you think made the difference in getting to the Semi-Final?
Rob Kelly: My experience surfing Jobos so much growing up and surfing it as much as I did before the event was what made the difference. The reef never changes so you can have more of a strategy than you would be able to at a beach break that is always shifting. I knew where I wanted to sit and what waves I wanted to catch before I paddled out each heat. Confidence is the best thing you can have on your side going into a big event like the Rip Curl Pro and I was fortunate enough to have it.
TSV: Did you feel all of NJ behind you? Because we were all definitely behind you.
Rob Kelly: Yeah, it was awesome reading all the texts and posts from everyone at home. Before my heats, I would listen to music on my phone and go through the texts and comments everyone was sending me. It definitely fired me up. Knowing that many people were watching got me psyched to go out and do well.
TSV: How was the reaction on the beach? I know you raised some eyebrows in the commentator's booth!
Rob Kelly: The whole vibe at the beach was so good. The locals were supporting the Puerto Ricans, but they weren't being disrespectful to any of the other competitors. You could tell that everyone down there was just stoked to have an event there. It was one of the craziest but most fun crowds I've ever seen at a surf event.
TSV: Well, good on ya', Rob! We're so pumped for you! Thanks for taking the time with us and keep smashin' 'em out there!