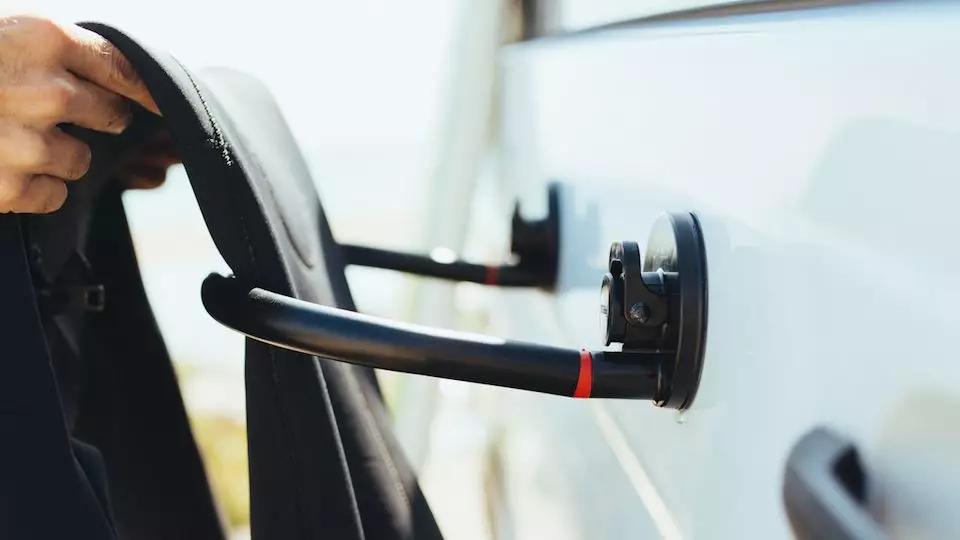 My name is Joe, aka @TheSurfingExpert and I source the top surfing products, whether it's from major brands, or from niche companies you've never heard of.
Unless you're lucky enough to live in Hawaii and wear boardshorts year-round while surfing in 80-degree water, hitting the water requires you to wear a wetsuit. A reliable second skin that keeps you warm to shred for hours is the most important piece of surfing equipment, after a good board of course.
With a retail price anywhere from $150 up to $500+, a wetsuit is definitely an investment. You can help make your purchase worthwhile and avoid buying brand new gear next season by giving your wetsuit a little bit of love.
Start by adding these 5 steps to your post-surf routine:
PROTECT IT WITH A CHANGING MAT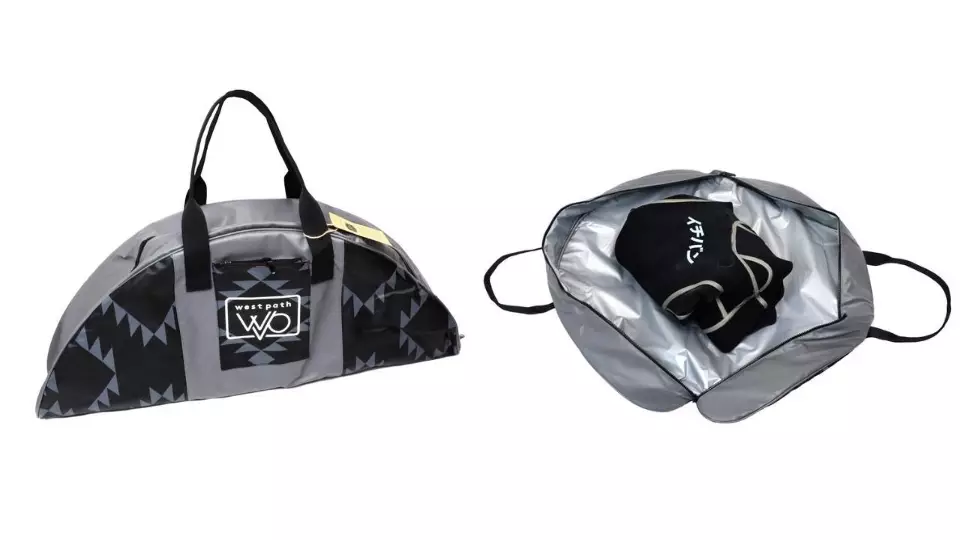 You just got to the beach and see that waves are pumping. You rush and try to put your wetsuit on as fast as possible regardless of how you get it done. However, forgetting to treat your wetsuit gently when changing into/out of it is one of the main ways it gets damaged.
The easiest way not to forget is to use this changing bag from West Path. The soft cushioned mat will keep your feet off the frozen concrete in the winter, and off the heat in the summer. It will keep your wetsuit dirt-free, as well as off any sharp pebbles that could tear it apart. The mat converts into a lightweight zipped bag, large enough to fit your gear and accessories. It will keep your wetsuit and your car clean until you get home to complete step 2!
West Path Wetsuit Changing Bag – From $19.99
RINSE IT OFF WITH FRESH WATER AFTER USE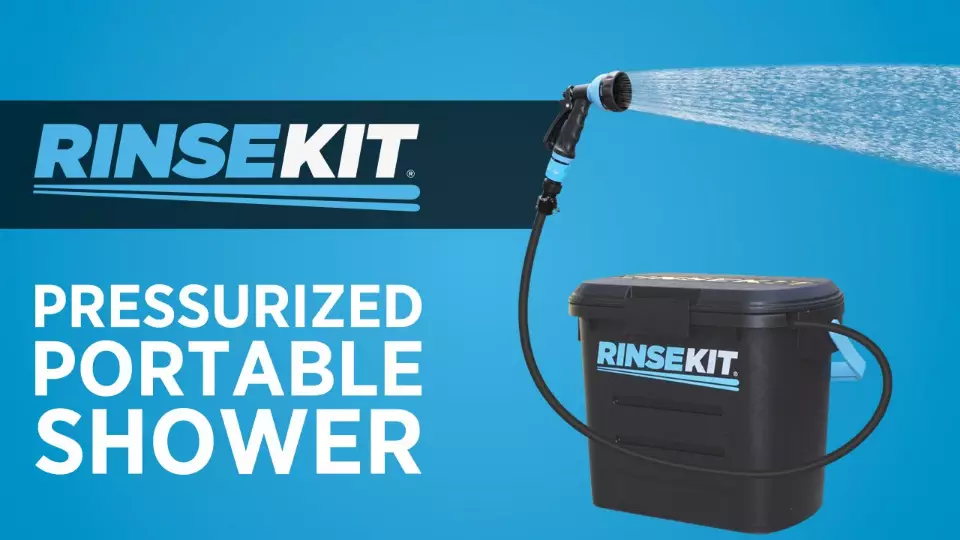 This is not an option. Salt will damage your wetsuit before you know it. Rinse both the inside and outside every time you use it to get rid of any sand and salt residue. I highly recommend using cold water. Neoprene, which is used for cold-water temperatures, may lose some of its flexibility when soaked in warm water.
Once it's all rinsed off, you can put your wetsuit aside, turn the shower back to steaming hot, and enjoy your favorite post-surf reward. With Rinse Kit's pressurized portable shower, you don't even have to wait till you get home to complete this step!
RINSE KIT – From $89.95

HANG IT UP PROPERLY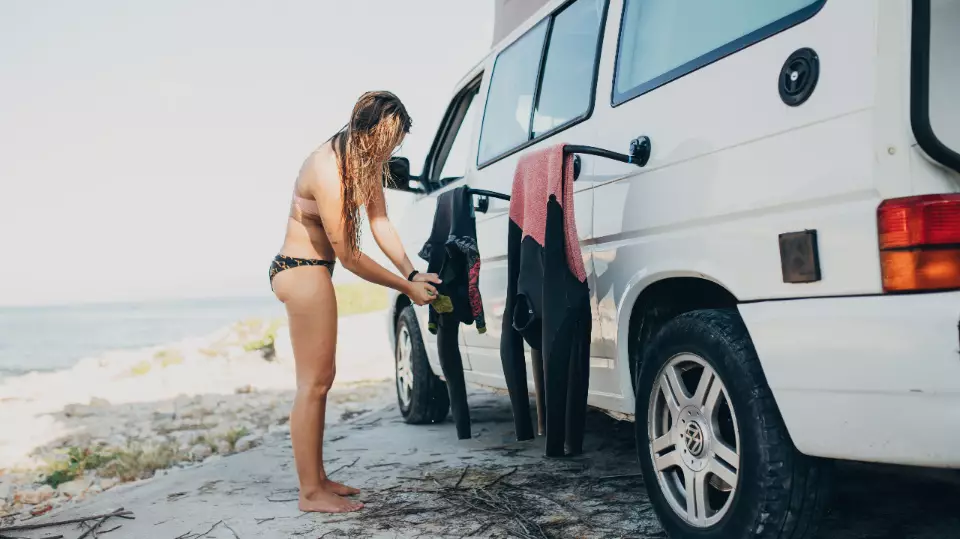 Never EVER hang your wetsuit by the neck or shoulders, as you will stretch it out. It needs to be hung up over the waist (as shown in the picture above).
A wetsuit, especially when it's wet, weighs a ton and requires an extra strong and wide hanger. GoDry Hanger is the best in the market and is designed specifically to hold HEAVY wetsuits. You can mount your GoDry Hanger pretty much anywhere, including onto your car!
GoDry Hanger – From $41.99
DRY IT OFF IN THE SHADE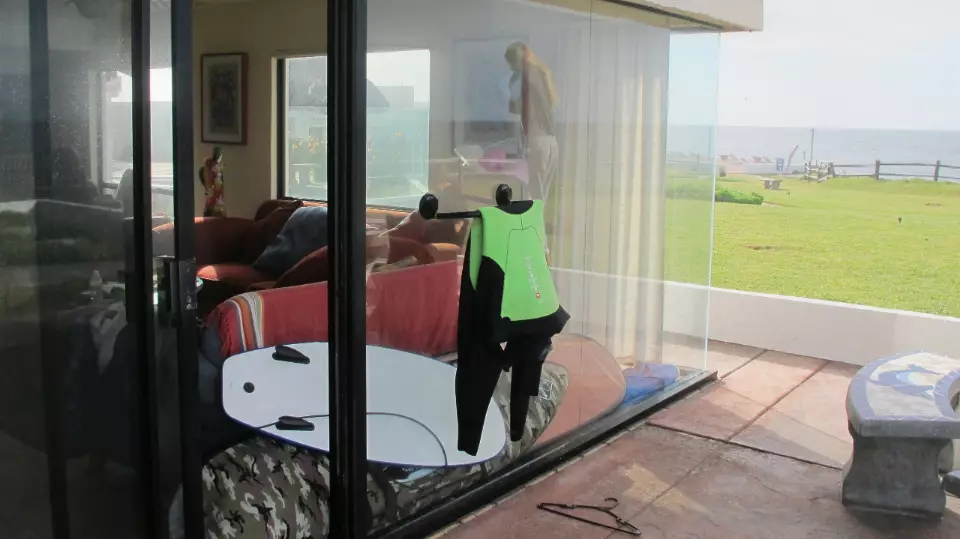 Sunlight is just as bad as salt for your wetsuit. If you can, dry it off in your shower or inside your home. If it has to be outside, make sure it stays away from direct sunlight!
Luckily, no purchase needed to help with this step!
SPRAY IT WITH AN ALL-NATURAL DEODORIZER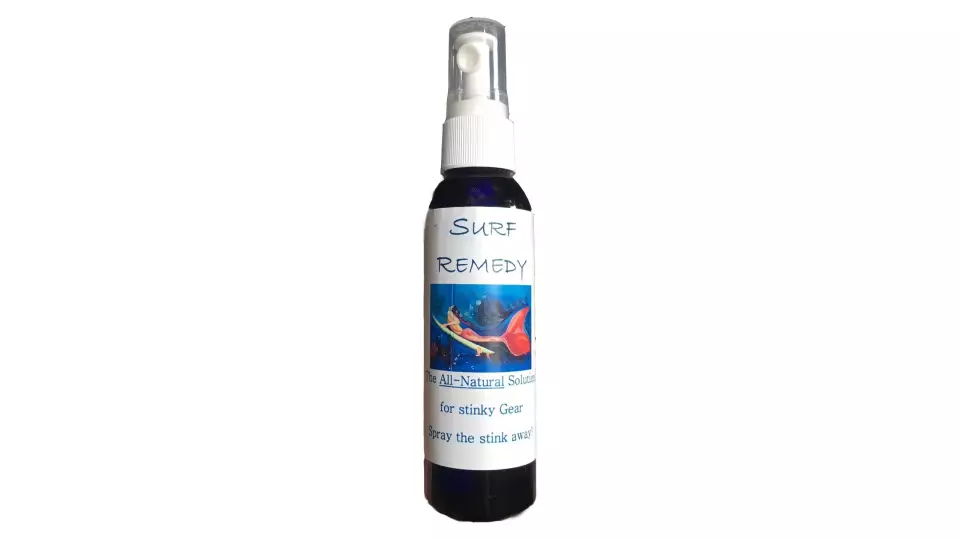 After taking off your surfing booties and wetsuits, there is a 99% chance you will notice a terrible smell (100% if you're one of the many who pees in your suit 😉 ). Getting rid of the stink created by wet surf gear takes more than rinsing them off and airing them out. A quick fix is to spray Surf Remedy's all natural odor neutralizer. Your gear will smell better and last longer too!
Surf Remedy – From $12.00 for an 8oz bottle.
To send us article ideas or suggestions of products to review, reach out directly to Joe @TheSurfingExpert on Instagram or email him at [email protected]