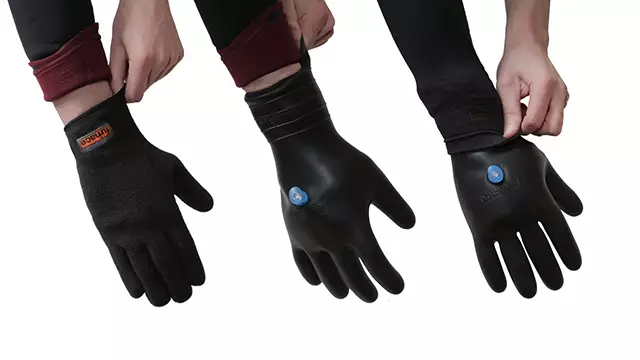 With the fleece liner and the latex glove combined, they leave your hands just as warm and dry as when you put them on.
Furnace is a cold water equipment company inspired by the frigid waters of the Northeast. They honor the passion of cold water athletes and strive to keep them warmer, longer.
The first prototype was a fleece liner glove with a yellow kitchen glove. Many prototypes later, Furnace has introduced the new Furnance Gen 2 Dry Glove. When worn properly, no water will enter the gloves, leaving your hands just as dry as they were before you paddled out.
How do they work?
The Gen 2 Dry Gloves are designed in two separate pieces. The fleece liner is put on first, which is then followed by the heavy duty latex glove over top. Be sure the seal of the glove is laying perfectly flat about 4 inches above your palm. This will leave your hands dry and toasty. If your hands do get cold during the session, you can release the cold air and blow warm air using the two way bite valve.
Overall, these are amazing gloves for ocean photographers, surfers, kayaking and so much more! Check them out!
As you can see, the gloves are simple to put on! You will be amazed just how amazing they feel, due to the fact that your hands are dry and you can actually feel your fingers after a winter surf session. What's not to love about these gloves? Another amazing addition to the gloves is just how much grip the gloves have! Unfortuntely, the Gen 2 gloves aren't available online yet until they have recieved the money they have earned from Kickstarter but you can get the Gen 1 gloves here, available in Men's Large! The only difference between Gen 1 and 2 is the fact that the Gen 1 does not have a bite walve. We will keep you updated when the Gen 2 is available for online purchase.
Furnace can also be found on Twitter, Instagram and Facebook.