Winter surfing has its ups and downs. The crowds are usually slimmer, it can be very peaceful, and you get some reliable ground swells… But on the negative side, it can be incredibly cold. Seriously. Sometimes it can be intensely, disturbingly, "Why the hell am I even out here?" cold.
I know I've missed out on a couple of good east coast swells over the years because I couldn't maintain my stoke after shoveling my car out of the snow on a few miserable February days.
However, good equipment can make a huge difference, and recently, TheSurfersView got to try out the Heated Wetsuit Top from HeatedWetsuits.com and Thermalution.
Their heated top is a lightweight polypro and nylon blend, meant to be worn under your wetsuit. It's outfitted with two 7.4v lithium polymer batteries, which attach to a series of heating coils that run from the small of the back to the middle of the back within the fabric of the shirt. There's a small controller that's used to turn the heat on and off, and to toggle between 3 heat settings (Low, Medium, and High.) The controller is pretty small and virtually weightless. I was able to run it through the sleeve of my wetsuit while I surfed without really noticing it.
The two battery packs sit in the shirt at about your kidneys and have a detectable amount of weight to them, but are quickly forgotten once you start paddling.
Once activated, the heat turns on almost instantaneously and is extremely warm. In only about four or five seconds it makes your entire back super toasty. If you turn the heat on with your wetsuit sealed up, and stretch for a couple of minutes before you paddle out, you'll be sweating before you hit the water on even the coldest days.
On the medium setting, I almost felt too warm for the first 30 minutes when I first tried it out. (I was wearing a 5/3mm wetsuit, 5mm boots, gloves, and hood, and it was about 25 degrees out with 10mph winds.) I found myself duck diving here and there to cool off as if it were summer time, particularly when I'd score a bunch of set waves in a row. Plenty of other dudes in the lineup were shivering in 6/5mm wetsuits with bright red faces and their teeth chattering.
Wearing the heated top under your wetsuit feels a lot less awkward than I would have expected. It was totally comfortable and never restricted my movement at all. No one was able to tell I was wearing it, even after I asked.
At about 2 and a half hours, the battery packs in the suit ran out of juice and stopped emanating heat, but my core had been more than adequately warmed up by then, and the heat lingered for a long time under my neoprene. I rarely do more than a 2 hour session in the winter, but with the heated top I could easily go 3 hours without ever feeling cold.
For general comparison, Thermalution's heated wetsuit top is significantly warmer than Quiksilver or RipCurl's similar designs. This is owed largely to Thermalution's use of two 7.4 volt batteries, as opposed to Quik and RipCurl which each only use a single battery and offer a smaller area of heating coils. Plus, the heat comes on faster with Thermalution's design, and lasts longer. I was very impressed.
FINAL THOUGHTS:
The Heated Wetsuit Top from HeatedWetsuits.com/Thermalution is sort of an east coast/winter surfer's dream come true. Having this in my arsenal removes any reluctance I might have getting into the water, in even the dead of winter. It works incredibly well.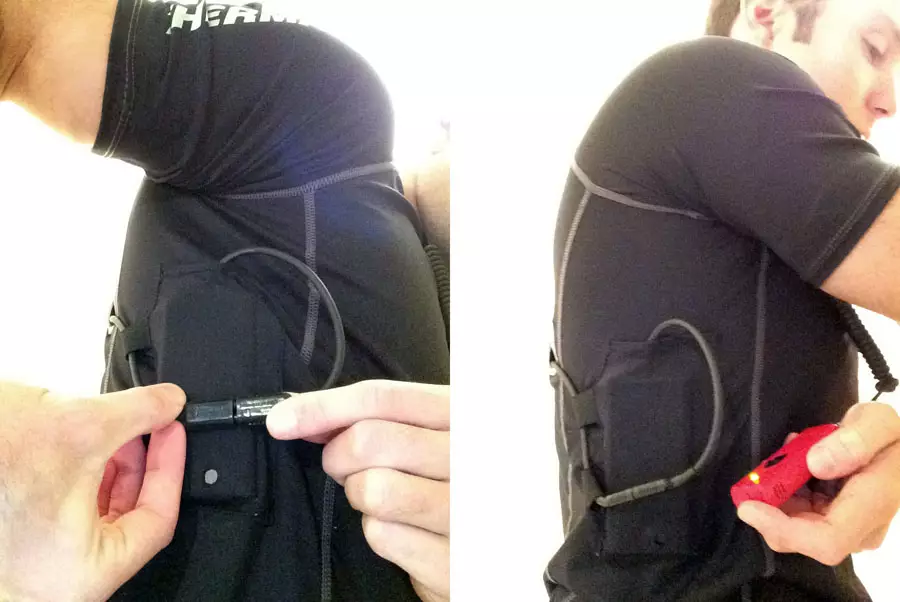 Wires connected and heat activated by controller. Photo: TSV
Worth every penny if you're getting out in icy winter waves. The Heated Wetsuit Top from HeatedWetsuits.com and Thermalution.
Find out more on their webite and FB page:
www.heatedwetsuits.com/thermalution-surf-series-15m
www.facebook.com/HeatedWetsuits