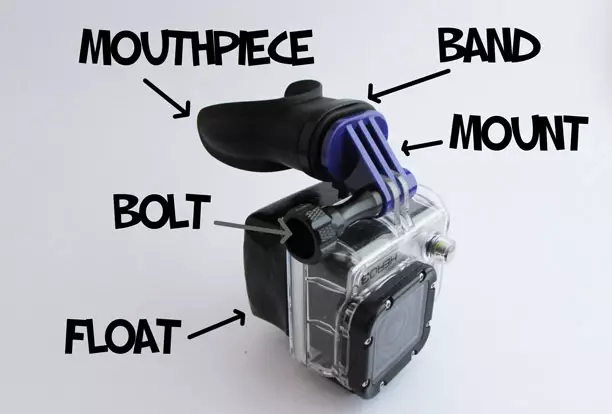 The Ho Stevie consists of the mouthpiece, band, mount, bolt and ever so crucial float.
GoPro cameras have undoubtedly changed the game in not only the surfing and extreme sporting communities, but also amongst the film and television industries. They allow the user to capture stunning shots in any environment from angles never thought possible (now all the way up to 4K video at 60 frames per second) for a ridiculously low price.
As awesome as these little cameras are, they are inherently limited by one crucial aspect: wherever the GoPro is mounted is where it stays. This can sometimes lead to stationary shots lacking a bit of variety. Since their rise to popularity, various companies have come up with a slew of new and creative ways to enhance the shot quality of a mounted GoPro, and make their shots more dynamic in nature. The guys over at Ho Stevie! have come up with a practical, innovative and (most importantly) comfortable way to achieve hands-free shooting anywhere. And trust us – once you try it out, you'll never want to surf a set or leave home without this thing.
The
Ho Stevie! GoPro Mouth Mount
is killing it with the shots this thing provides. Seriously. Ever wonder how your favorite surf videos have such perfect barrel shots, and appear to be the surfer's ACTUAL point of view? Well, that's because it actually IS exactly what they are seeing. Struggling with torso, helmet, or other body mounts seems completely ridiculous after having used this mount for not even 10 minutes.
The Ho Stevie! GoPro Mouth Mount comes in many colors
With this flawlessly-designed system, you can keep your camera "mounted" just below your eye line with an extremely durable yet soft silicon mouthpiece, knowing exactly what your shot will end up looking like – all while keeping your hands free to do more important things (like making sure you don't eat shit and drop your camera)
Even if you do end up eating shit, this thing's got a float that adheres to it with a standard 3M GoPro sticky pad, as well as an optional leash! It's like they've thought of everything with this kit.
And when it comes to the little details, they definitely haven't skimped on any of them. The polycarbonate mount that attaches to the mouthpiece was designed with airflow passages so that you don't have to breath exclusively through your nose when using this product. It provides unrestrictive breathing, while also not allowing water to pass through during
duckdives or wipeouts
.
If that all wasn't enough, just about every piece of this kit is customizable with a huge selection of color options, and up to 5,000 different looks. Pretty awesome.
The Ho Stevie! GoPro Mouth Mount retails through their website, or through eBay starting as low as $29.99 – a perfect inexpensive little solution to your problem of not having your hands free while also wanting to shoot with your GoPro.