From a classic single fin to a quad setup, Pushfins have you covered.
Pushfins began with a simple design goal: to make high quality, performance surfboard fins that have a minimal impact on the environment.
As raw materials exponentially raise the environmental impact of consumer products, we chose to source as much material as possible from post-consumer and industry waste channels. The primary materials in our fins are used/manufacture defect skateboard decks (seven plies of Rock Maple, one of the top five sustainably harvested hard woods in the world), fiberglass scraps from the surfboard shaping/glassing industry and Entropy's bio-based resin. The only raw material that goes into our fins is a percentage of the resin and the stainless steel pins in our slider box fins, which means that over 90% of the material in each and every fin would have otherwise been headed for the landfill. What's not to love?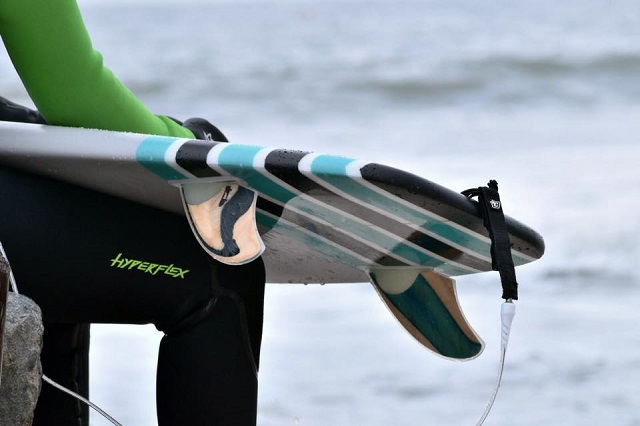 TSV team member Greg Causton rides Pushfins, what do you ride? Photo – Kathy Causton
Pushfins are FCS, Future & glass-on compatable. Looking for a specific color? Not a problem, just contact Pushfins and they will get you hooked up with a fresh pair of fins. Every set of fins are uniquely hand crafted, which seperates Pushfins with the other companies out there. Go green and get barreled while doing it. Get yourself a pair of Pushfins today!
They can also be found on Facebook, Twitter & Instagram, give them a follow!
---