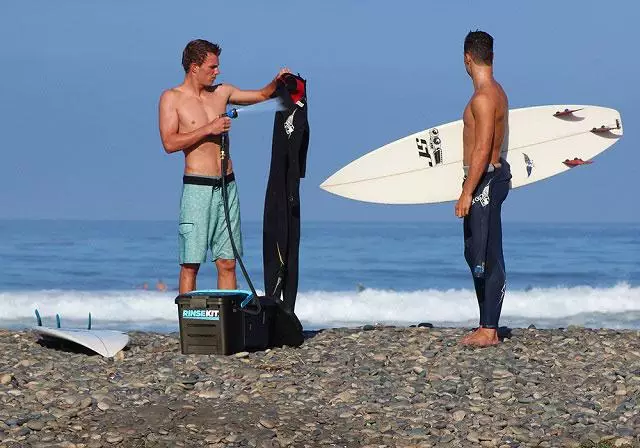 The RinseKit Is Perfect For Rinsing Off After A Surf Session.
The revolutionary RinseKit is a portable, pressurized shower system that's like having a garden hose at the beach or the trailhead. With no pumping, and no batteries, it fills in 20 seconds, storing the strength of a regular household spigot to deliver pressurized spray for up to 2-3 minutes.
If you don't believe me, see it with your own eyes!
Who wouldn't want a RinseKit?
How Does It Work?
The RinseKit hose quickly attaches to your water spigot with a quick connect coupler. When the water is turned on, it fills the 2 gallon eon™ pressure chamber with approximately 65 psi of water pressure (standard home pressure) in 20 seconds time. The water is then stored in the chamber and can hold pressure for up to one month. When it's time to clean up, simply attach the spray nozzle to the RinseKit hose with the quick coupler, select one of the 7 spray settings and fire away! This patented design has no moving parts and can be filled with hot or cold water an infinite number of times. Simple, versatile and durable, the patented RinseKit is perfect for any clean up on the go.

Overall, the RinseKit isn't just made for watermen… It was made for those that love being outdoors. Get yours today!
RinseKit can also be found on Facebook, Instagram & YouTube, give them a follow!