Kelly describing the Semi Pro.
For this week's board of the week, we're checking out the Semi Pro from Channel Islands.
It seems particularly appropriate since it's Kelly Slater's signature board, and he's fresh off his recent tour win in Fiji. Not to mention putting up a couple of 9s so far this week in Round 2 at Bali.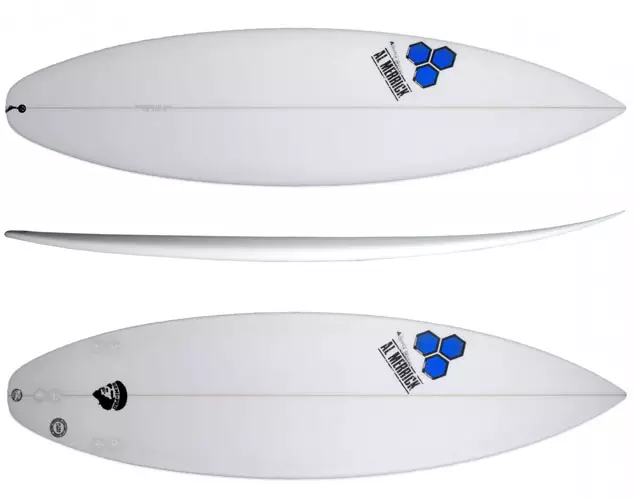 Top, bottom, and rocker view for the Semi Pro.
The Semi Pro is not your all arounder. It's not the board you're gonna throw in the car and head to the beach without even bothering to check the surf forecast. It isn't a groveler, and it isn't a board for the sloppier choppy days.
What it is however, is a mega performer in quality surf when the waves are chest high +. It's also a great step up board for when the epic days roll through, or an excellent travel board for surf trips to firing destinations.
Designed by Kelly himself, it borrows a few minor elements from hybrid shapes- like a slightly more forward wide point and the suggestion that it can be ridden an inch or so shorter than your traditional shortboard…
That said, I prefer the Semi Pro at least between 5'10 and 6'1 (… and note that I like grovelers and aerial boards as short as 5'0…) The Semi Pro is simply less volume than I'm used to, so I like it better with a little extra length.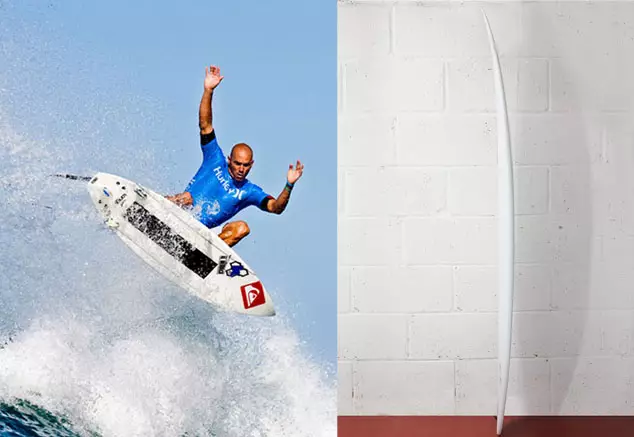 Kelly with a little air on his Semi Pro and another rocker view.
The model's redux, The Semi Pro 12, does pack a little bit more volume than the original (which is its only difference,) but really- the Semi Pro 12 is basically just the original Semi Pro with Kelly Slater's custom dimensions instead of stock dims (…it's weird that Kelly would surf it wider than you're expected to.) The stock 5'10 Semi Pro 12 is 24.8 L, while the original Semi Pro in 5'10 only measures in at a puny sounding 22.5 L.
However, you realize why you're surfing a thinner board the moment you get this thing going down the line. It draws the smoothest, most critical turns you'll ever make. Everything snaps and glides in perfect harmony with the face and lip of the wave. The Semi Pro offers remarkably flawless performance in good powerful waves with some size.
The drawback to this level of hypersensitivity is that you'll feel even minor imperfections sometimes in the wave you're surfing, and you might get a moment where it feels like you're riding a flag flapping in the wind until you pass the shitty bit of chunk in your nice clean section.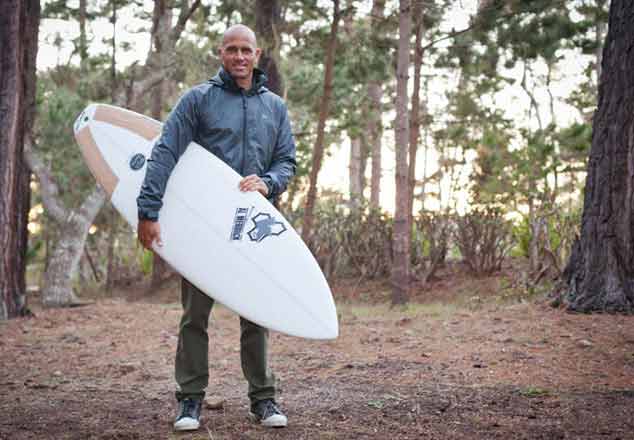 Kelly with an eco friendly model of the Semi Pro from E-tech.
Fortunately, if you're surfing this board in the right kind of wave, you'll have enough power and speed to gut right over any random chunky parts (usually with something as simple as a little pump or some extra weight into your front foot.)
Design-wise, it's got a single concave that goes into a vee out the back, and a curvy rocker; commensurate to any performance board meant for big/good waves.
The Semi Pro and the Semi Pro 12, from Channel Islands. (Designed by what's-his-name? surfer, Kelly Slater.) Check it out.