Photo | Waxvending.com
It's 5 am and first light is starting to peak over the horizon. You've been tracking this swell for days and it has finally made its way to shore. Your boards are strapped to the roof, your wetsuit is dry and your leash packed. You start filling your bag with the essentials when you realize that you're missing one thing. Wax. The sand crusted quarter inch of wax you have left won't cut it for today and the closest surf shop doesn't open till 10 am.
If you're an avid surfer you know how important these small tools are to getting your board ready for its next wave. Wax Vending, has invented a mechanical vending machine to be installed outside of local surf shops that gives you 24/7 access to surf wax. In addition, the vending machines offer up to date surf forecasts and videos through NFC tags on the machine.
Founded in Long Beach, New York, Wax Vending is a vending machine that combines convenience with social surf news and media.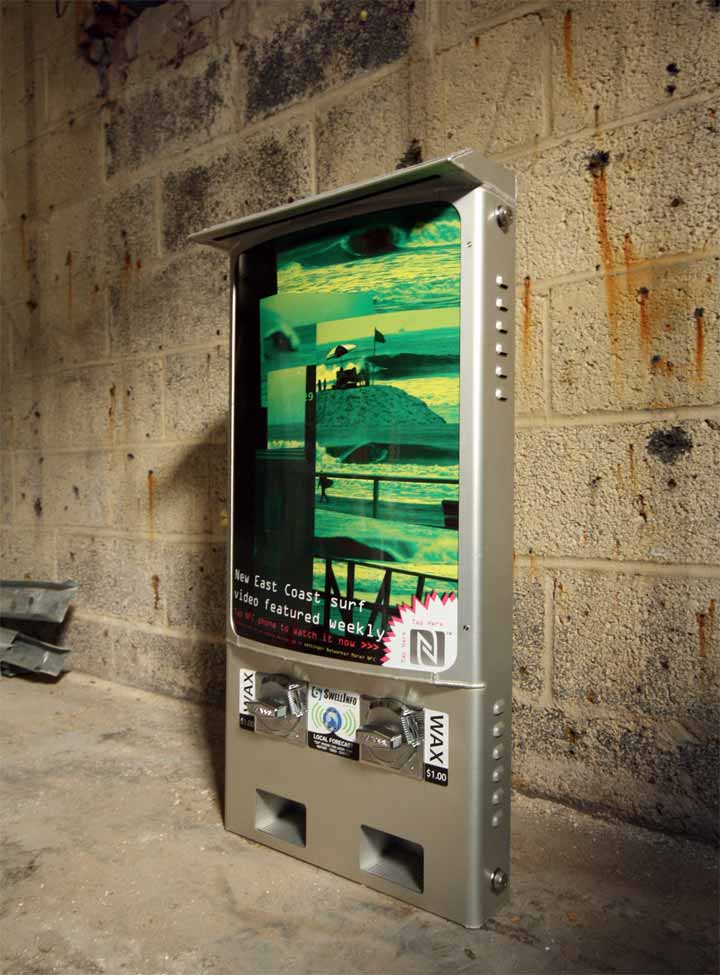 This spring Wax Vending embarks on a month long journey across the East Coast to install its first fleet of custom built surf wax vending machines. Stocked with Bubble Gum Surf Wax and located directly outside local surf shops, the machines will provide surf communities with 24 hour access to surf wax year-round. The company plans to have over 50 machines in operation by mid Spring.
While purchasing wax, surfers can "tap" their phone to the ad board and be instantly directed to branded videos and other rich digital content. The company has also partnered with Swellinfo.com to offer surfers immediate access to local surf forecasts. The machines are fully mechanical, meaning they do not require an electrical power source. And to prevent melting, the wax stored inside stays cool even in the hottest weather with ventilation located on the sides and bottom of the machine.
Follow the Wax Vending road trip on their Facebook page as they install their machines at local surf shops through out the East Coast.