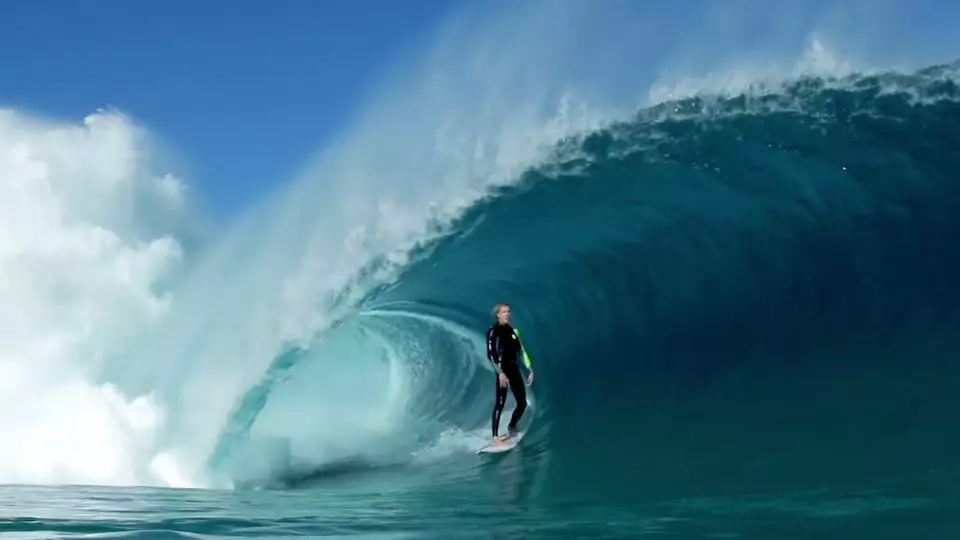 The art of relaxed barrel riding – Photo: Vimeo
If you've been too busy surfing the epic back-to-back East Coast swells over September, no doubt you've missed some of the best surf videos dropped last month. We've got a fresh edit featuring Mr Dane Reynolds, that's not to be missed, along with a movie featuring the A-Team of big wave riding. If that's not enough, there are bucketloads of perfect waves from the Caribbean to Western Australia ridden by chargers of the highest degree. So here there all are, the best surf videos to come out of September, enjoy!
–
Premium Violence featuring Dane Reynolds
Now here's an edit that we've all been waiting for, finally some new footage of Dane Reynolds surfing. Since he teamed up with Craig Anderson to start Former, we haven't seen many clips of Reynolds in the water. Now there is one, and it's over 8 minutes long! We don't know much about where he's surfing, but you'll see that Dane hasn't slowed down one bit, let's just hope it's not too long until we see more of him…
–
Strange Paradise
We've all seen how perfect waves can be in Indonesia, but finding an empty lineup is getting harder and harder, unless you're willing to put some serious effort in. Filmmaker Gabriel Novis and surfer Alex Smith concocted a plan to search out new waves in isolated Northern Sumatra, and took along Mikala Jones and Luke Davis for the ride. After some seriously dicey weather that almost scuppered the trip, they finally made it to their Strange Paradise…
–
Greetings
The crew from the Vans team decided to take a surf trip to the Caribbean, and you can join them for the next quarter of an hour! Click play and watch Dylan Graves, Wade Goodall, Dane and Pat Gudauskas shredding turquoise waves in undisclosed locations. This flick also has a killer soundtrack featuring tracks by VIP Lemonade, Quintron and Miss Pussycat, Peaking Lights, and more!
Greetings feat. Dylan Graves, Wade Goodall, Dane and Pat Gudauskas | Surf | VANS
–
Filf
To finish things off this month we head over to Western Australia, where Jacob Willcox is right at home hunting down insane slabs and busting full roters. If he's not chasing the 'QS dream he's at home with filmmaker Isaac Jones racking up the clips for the next edit, and here it is. Filf, a fitting title for a filthy surf flick!
–
That's it for this month, so go surfing and come back later…