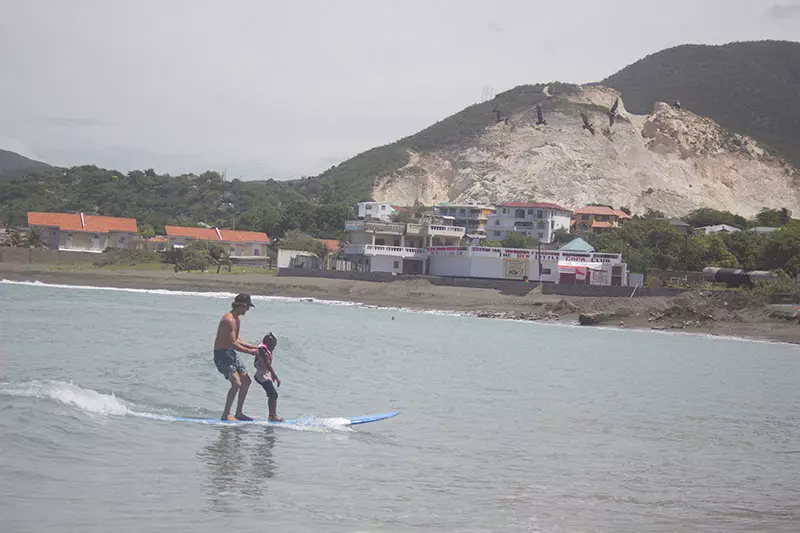 (Enjoying the waves at 9 mile.)
It is two thousand eight hundred and five miles from Malibu, CA to Kingston, Jamaica. Out of Malibu comes THERAsurf, and out of Kingston comes JASA (Jamaican Autism Support Association). Despite geographical locations these two non-profit organizations were able to come together, and put on a weekend surf camp for children with special needs. The weekend was hosted at Jamnesia Surf Camp, and it was an amazing event for all involved. Spirits were high among the participating children, families, and volunteers. The goal was simple; take the kids out in the surf for a day they couldn't forget.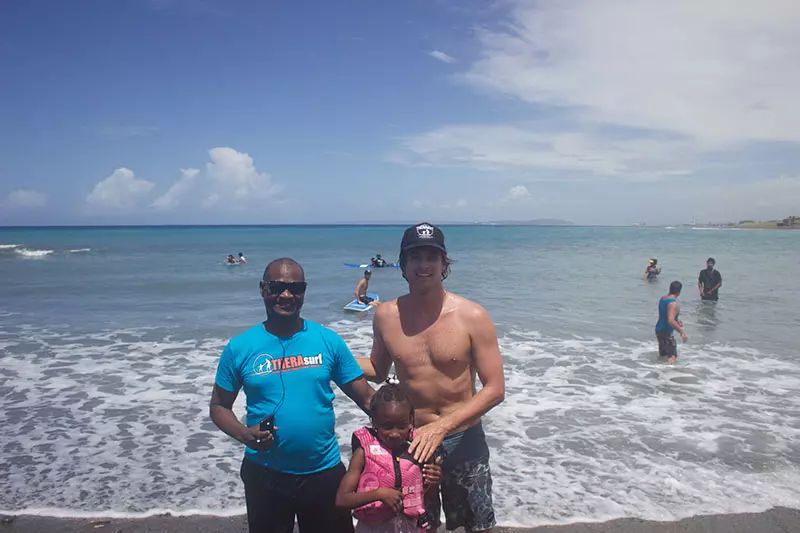 (JASA & THERAsurf putting on a fun day for kids, parents, and volunteers.)
The Jamaican Autism Support Association gives support to parents and professionals in areas all over Jamaica. JASA was co-founded in 2007 by Kathy Chang. The group has goals from raising awareness about Autism in Jamaica, to getting tax relief for autistic individuals and families. They work hard to engage those in their community and extend a helping hand. It was an honor for THERAsurf to get to travel to Jamaica and work with JASA putting on the event. Kathy Chang said, "Having THERAsurf come to Jamaica to treat our children with a different flavor of surfing was fantastic! The parents enjoyed seeing their child with Autism having not only a great time but being able to do something like other kids. The THERAsurf team treated our children as such – children, no disabilities or differences. The team seemed to be having as much fun as the children."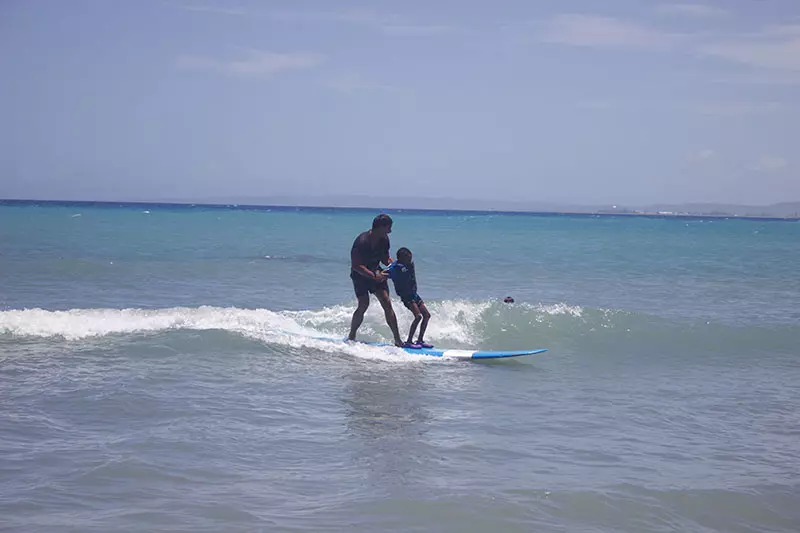 (Teva Dexter styling one down the line.)
THERAsurf has put on events for children with special needs in Los Angeles, Santa Barbara, Maui, and now Jamaica. Traveling to Jamaica to put on an event is the furthest destination from home yet. But the team was excited to take what they had done on their own beaches to a new place. With a goal in mind to put on a surf camp for the local kids, that they could always remember. The group set out with a team of surfers, a nurse for safety precautions, and a coordinator to make sure they figured out how to get around. Each member of the team selflessly volunteered his or her own time to be apart of the trip. Without all of the volunteers from both THERAsurf and JASA this event would not have been possible.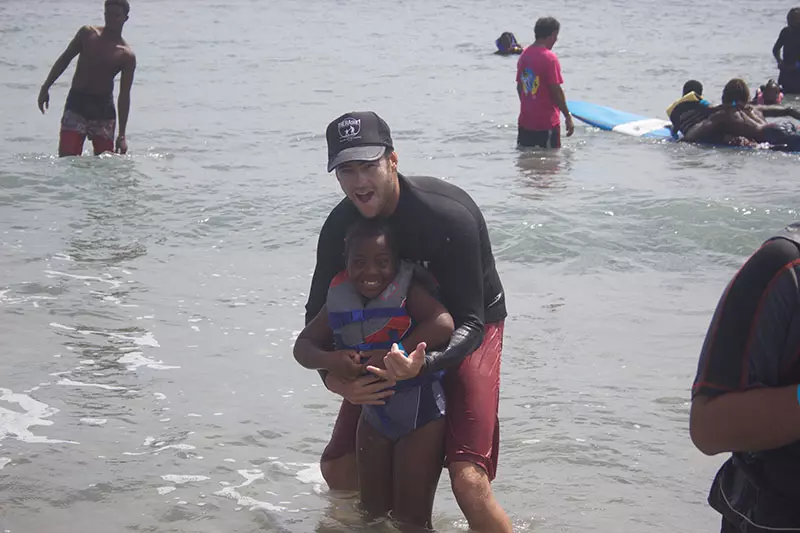 (Leo Harrington sharing some vibes with the locals.)
As well as the volunteers a separate mention is due for the Founder of THERAsurf, Jimmy Gamboa. He really made it possible for JASA and THERAsurf to be able to come together. During the day he surfs with more kids than anyone else, and I think he has a conversation with every single person on the beach. It's evident to anyone who has ever been to an event how much he cares about the kids. He inspires the families, volunteers, and really anyone who comes in contact with him to believe in THERAsurf.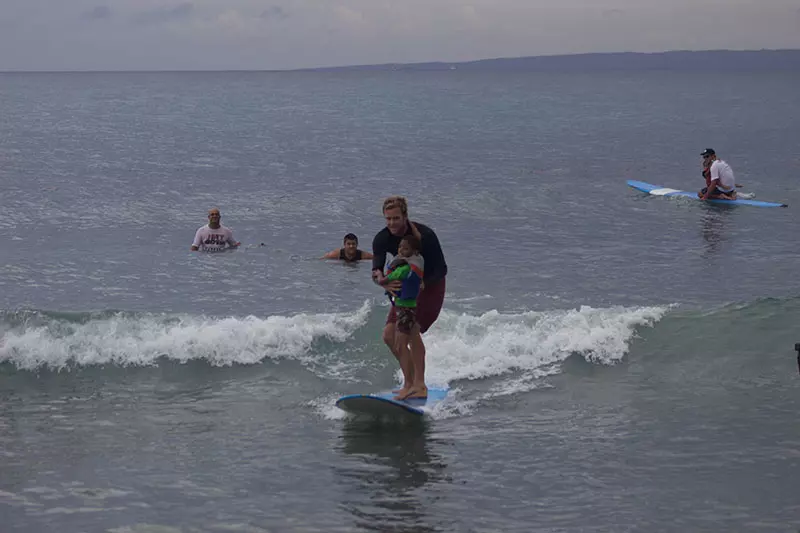 (Leo taking this one all the way to the beach.)
JASA and THERAsurf put on an amazing event in Jamaica and formed a relationship for the future. They are looking at having another event in April next year. The events are incredibly difficult to pull off, and these organizations make it look easy. They deserve any and all accolades for the selfless work that they do. The day to day for a child with special needs is not easy. These groups go out of there way to give them a day at the beach where maybe they can forget about normal life for a moment. A surfer knows the feeling of spending the day catching waves with your friends, and family. It is an irreplaceable one.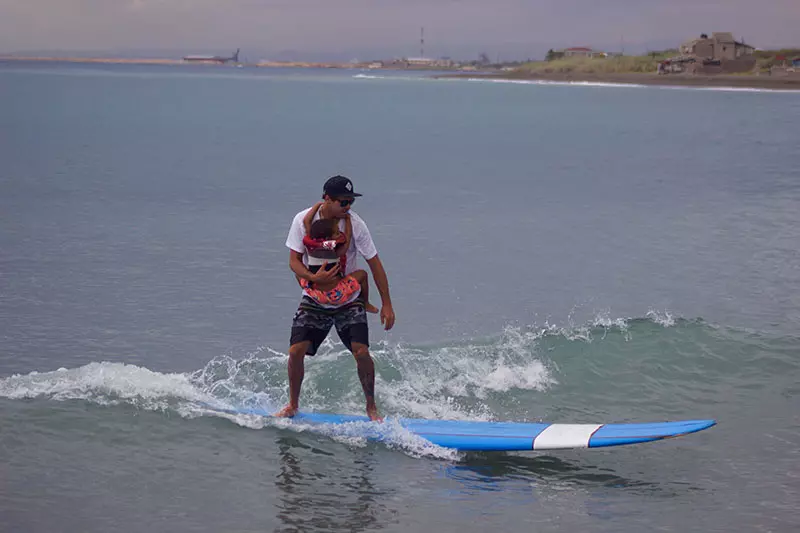 (Jamie Meistrell going with the classic "carrier".)
If you're interested in getting involved or donating to the Jamaican Autism Support Association, or THERAsurf you can follow the links below to their websites for more information.