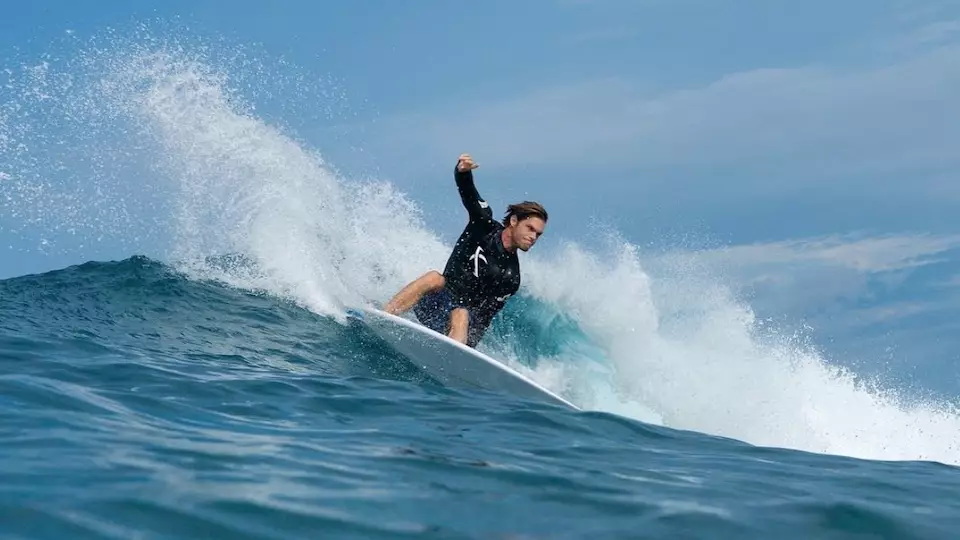 Meet Cris Mills, he's in the business of making you a better surfer… Photo: Instagram
To surf good your body needs to be capable, so here's the question you need to ask yourself, is yours capable? Sitting in the lineup you can often distinguish between the surfers who are cleaning up, paddling into wave after wave, while others sit back and take it easy, picking off the odd wave here and there. Which one are you?
View this post on Instagram
Fitness plays a huge role in how you surf, from how many waves you'll catch in a session to the maneuvers and tricks you're able to nail. Maybe you're not aware of just how much your body is holding you back in the surf, but don't worry there's help at hand. Surf Strength Coach Cris Mills has developed a comprehensive approach to surf fitness that anyone can understand.
View this post on Instagram
Growing up in Florida, Cris was always close to the ocean, and during his teens he got hooked on surfing. He started with riding the rollers at Cocoa Beach once school was out, and when he graduated he traveled through Australia for 9 months, then spent half a year in Europe.
Once back in the States he started exploring surf spots all over the country and headed off on extended surf trips through Central America. By the time he was ready to leave home he knew he didn't want to live far from the ocean.
Instead of going to college to study law, Cris continued to build on his knowledge of the human body, taking courses in anything and everything that could help him learn more. He's a certified personal trainer, a licensed massage therapist, a neurokinetic therapist, a nutritional coach and more. He's applied all his knowledge and training to his passion for surfing, and now shares his know-how to help other surfers improve their game.
View this post on Instagram
We caught up Cris, who is in Indonesia right now with world class surf on his doorstep. But it's not all fun, as Cris reveals. "I've been recovering from a bout of typhoid which was one of the most horrendous health issues I've ever dealt with." Health risks aside, there's a lot to be said for living in one of the most wave-rich regions on Earth. "I'm surfing 3 hours a day, 5 days a week, stretch nearly every day, and I'm eating great food."
When asked about the fastest way for surfers to improve, he replied, "The most important thing a surfer can do to improve is to get out in the surf as much as possible, then take a reflective look at what type of aspect is missing." Cris' expertise lies in being able to identify exactly what it is that is holding a surfer back, whether it be lack of flexibility, poor technique, or inadequate core muscle strength.
Cris has written books on the subject of surf fitness, has developed training programs, recorded demonstration videos, offers one-on-one consultations and creates custom training regimes for individuals. He's a self-styled Surf Strength Coach, and explains his profession like this, "I help people keep their bodies capable and healthy, and influence their athletic capacity so that they can surf better and for longer."
View this post on Instagram
Cris consults with clients globally, and running surf coaching trips across the world, from the Mentawais to Sri Lanka. If you're interested you can take advantage of his surf fitness expertise from anywhere in the world. Head over to surfstregthcoach.com to read some of his blogs and find out more about his training programs.