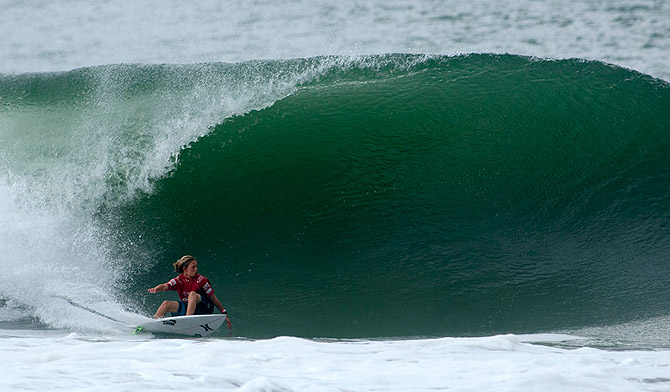 USA's Jake Marshall took advantage of today's spectacular conditions, advancing with a 1st place in the opening round. Photo: ISA/Rommel Gonzales


Sunday, June 9th, Playa Jiquiliste, Rancho Santana, Nicaragua - The DAKINE ISA World Junior Surfing Championship (WJSC) Presented by Billabong kicked off Sunday with incredible surf in beautiful Playa Jiquiliste, Nicaragua. The competitors were greeted with great conditions and the famous Nicaraguan offshore winds, which provided a spectacular stage for the world's best junior surfers.
A large Sunday crowd of Nicaraguans fans, team officials and supporters, witnessed the fierce competition from the beachfront grandstands built in Jiquiliste Beach for the ISA World Junior Championship.
"We had an amazing Day 1," said ISA President Fernando Aguerre. "We woke up this morning with a little drizzle but then it dried out and we had amazing waves and incredible offshore winds. It's just perfect. On the first day, everybody is on the beach, you can feel the tension in the air, and the competitors were really focused. We see a lot of nervous faces, but this is the most important day and we are rolling."

Read More >>


---