Chop Suey's & Pork Frog's? What!?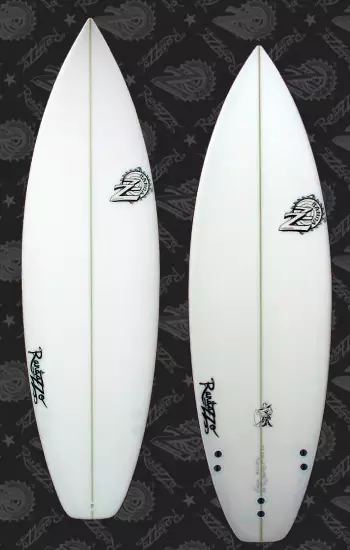 Dean Randazzo-Legend, Inspiration, Ripper-has officially launched his new board line as a part of Randazzo Industries (www.randazzoindustries.com).The move is bound to cause a ripple effect throughout Garden State line-ups. From his teenage years, Dean's been hands-on about what makes boards work and passionate about applying the ideas he's conjured in his head. But perhaps more than that, he's taken his trademark power surfing to the elite 'CT (the only NJ surfer to do so), maintained his winning ways over decades, ridden for the best shapers in the world and intimately knows the conditions we face every day. If anyone's been there and done that, it's Dean. He may not be the guy mowing the foam (he's working with the talented shaper known simply as "The Ninja"), but he knows boards. The division launched because the ideas in that beautiful bald noggin' of his finally reached a boiling point and the only way to get them done was to do them himself.
The board line reflects the variety of conditions we face here throughout the year. From big stuff to small, powerful to gutless, Dean's got a design for it and they're not just your typical guns or fish, though he's got those too. Below is a quick look at some of the models. The full line may be found on the site www.randazzoindustries.com.
The Chop Suey-Small Surf
This board breathes speed and is quick and easy to turn in small surf. A generous double concave between the fins, vee off the tail, defined hips and an abruptly chopped off tail combine to make this a go-to for those gutless summer days and small winter leftovers. While it looks crazy to all who gaze upon it, initial feedback has been stellar with a few "best board ever's" flying in. The model comes standard with a five fin set up and rides great as a thruster or quad.
The Pork Frog-Small Surf
While also designed for smaller surf, the Pork Frog (the what?!) utilizes a bit more of a traditional outline than the Chop Suey. You'll note that the wide point has been moved slightly forward for easy paddling. It has a lower overall rocker with a slight single concave running to a deeper single/slight double concave between the fins. Dean suggests that you order this board 2" to 6" shorter than your normal board and an 1/8" thicker. It comes standard as a tri fin or five fin set up, providing versatility to the board by having multiple fin set-up options.
The Ozzie and Harriet-Small to Medium Surf
The Ozzie and Harriet is a double bump quad fin. The board is designed to go super fast and stay loose in small to medium size surf. The double bumps in the rails back by the fins enables the rider to pivot for sharp, snappy turns. The slight single concave to double concave set in "V" between the fins allows this quad to ride rail to rail and have lots of squirt through turns. Dean recommends that you ride this model with the same dimensions as your normal board or up 2′-4″ inches shorter.
The CT-Medium to Overhead Hollow Surf
The CT is very similar to the board that Dean was riding while competing on the WCT tour. It has moderate amounts of nose and tail rocker with a single concave. The added rocker and single concave allows this board to do tight in the pocket turns, while still having lots of drive and pop. Of course, it doesn't come standard with Dean's power surfing, but with enough practice…
The DR-Medium to Overhead Surf
The DR is Dean's signature board. This board has a slightly racier outline with fuller rails and lower rocker throughout, which ends with a slight kick in the tail. The bottom is flat under the front foot, but then leads to a single then double concave between the fins to slight vee off the tail.
---
Dean's got a bunch more models for all kinds of conditions and he's happy to work with surfers on custom boards. He lights up when he discusses the line and the ideas still to come, looking like a kid who just got a kiss from his hot babysitter. He's obviously having a blast with it all (as if you couldn't tell from the model names) and it's evident in the craftsmanship.
As if you needed more reasons to check out Dean's line, a % of the proceeds will go directly into Dean's cancer foundation (www.deanrandazzocancerfoundation.org). The foundation is in its 10th year and is a charitable, non-profit organization with 501(c)(3) status that was established by Dean soon after he was first diagnosed with Hodgkin's Lymphoma (he's battled the disease 4x, but is now cancer-free). The organization's express purpose is to raise money for cancer research and awareness and assist individuals battling cancer both financially and emotionally. To date, the DRCF has donated over $100,000.00 to worthy beneficiaries.
So, contact Dean ([email protected] / 732-927-3781) to check out his line and get the soul of NJ under your feet. You can also check out a few of the models in person at the 7th Street Surf Shop in Ocean City, NJ.