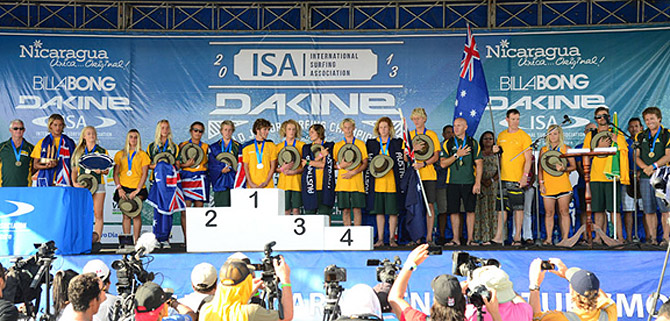 Australia, the 2013 DAKINE ISA World Junior Surfing Games Team Champion, holding the ISA World Junior Team Champion Trophy. Photo: ISA/Michael Tweddle

Team Hawaii takes three Gold Medals: Josh Moniz (Boys Under-18), Tatiana Weston-Webb (Girls Under-18), Mahina Maeda (Girls Under-16). Australia's Jacob Wilcox wins Boys Under-16.

Sunday, June 16th, Playa Jiquiliste, Rancho Santana, Nicaragua - Following an amazing Final Day of great waves and exciting surfing performances, the 2013 DAKINE ISA World Junior Surfing Championship Presented by Billabong officially closed.

Team Australia is the new ISA World Junior Surfing Championship Gold Medal Team and winners of the Team Champion Trophy.

In the individual divisions, Hawaii's Josh Moniz won the Boys Under-18, Hawaii's Tatiana Weston-Webb won the Girls Under-18, Australia's Jacob Wilcox won the Boys Under-16, and Hawaii's Mahina Maeda won the Girls Under-16 in the incredible waves at Playa Jiquiliste.

"This is the end of an amazing World Championship. It's a happy and sad end. We are very happy because it was a very successful event, but it's sad because it means we have to leave Nicaragua," remarked ISA President Fernando Aguerre. "We have confirmed what we discovered last year, a surfing paradise. It was in our dreams, a small nation in Central America full of waves, offshore winds, good people and very accessible. Nicaragua has been so good, that all of us, the 500 people that came for the event, will continue to come back here and tell the rest of the world about it."
Aguerre continued, "On that note, I'm very happy to announce that the 2014 World StandUp Paddle and Paddleboard Championship, will be held in Nicaragua in the ocean that gave us all these great waves, and also in their beautiful Lake Nicaragua.


Read More > >
---