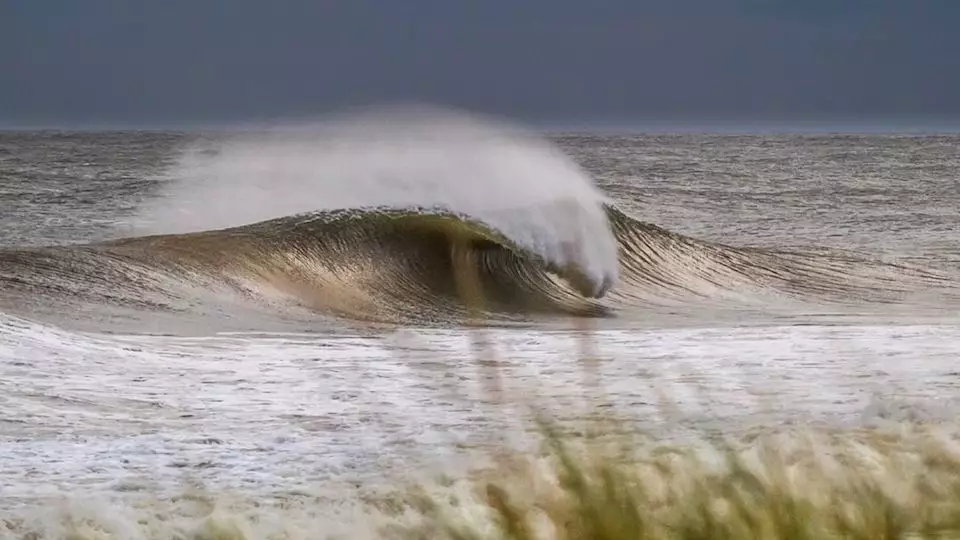 Perfection in New Jersey… – Photo: Matt Ciancaglini
It's been one of the best September's for surfing on the East Coast in quite some time, with back to back hurricane swells lighting up spots up and down the Atlantic Seaboard. Jose stalled off the Northeast to keep spinning an incredible run of swell our way, but we don't have to tell you that, you were out there surfing it! Here's 10 of the best surf videos of Hurricane Jose that have dropped so far…
–
Jose in NJ
Kevin Doherty was on the beach September 19th to film Alex Brooks slotting himself into every barrel that came his way in New Jersey. He then sat down and created this fine edit for your viewing pleasure, including a bonus bodyboarding section at the end, enjoy!
Jose in NJ - September 19th 2017
–
Vince Boulanger – Hurricane Jose Ocean City 9.20.17
Ocean City fired when Hurricane Jose came to town, and Vince Boulanger was there to reap the rewards. A tight edit with Rocket Man by Me First & The Gimme Gimmes for a soundtrack, props to Unscene Productions for putting it together!
httpv://www.youtube.com/watch?v=sgRo1pTRig
–
Hurricane Jose Swell
Next up here's some top footage captured by Cameron McVeigh on September 20th, we're not sure exactly where it is but we know it's Hurricane Jose pumping out those tubes!
httpv://www.youtube.com/watch?v=Q6mwnSSr8
–
Hurricane Jose Goes Big in the North East
Ben Gravy gets out of Jersey and heads north, with an all-time forecast claiming 6 to 10 foot waves and offshore wind! The boys scored it big, just watch to find out how big…
HURRICANE JOSE goes BIG in the NORTH EAST
–
One Minute with Jose
Down on the Delmarva coast, Hurricane Jose sent solid surf to light up the beach breaks. Parker Kreppel, Doug Dashiell, and Dillon Harrington were all out in the water, with Nick Tribuno on land to film and edit this one minute short.
–
One Minute with Jose Round 2
With Hurricane Jose slowing up and spinning out to sea the surfers of Delmarva enjoyed another session of overhead waves. Starring Simon Hetrick, Waldon Remington, Seth Cowboy, Doug Dashiell, Stephen Alther, and Dillon Harrington, here's the second round!
–
Jose in NJ
10 seconds of joy right here, thanks to Snickart for uploading this video, one unknown surfer on a hollow peeler somewhere in New Jersey…
–
No A Jose – Southern NC Hurricane Swell
Now for three minutes of action in Southern NC, where surfers Rob Evans, Gabe Morvil, Chris Curry, Bo Raynor, and Mason Barnes were getting their fill of the stand-out waves being sent their way.
–
Surfing Hurricane Jose in Rhode Island
Rhode Island picked up its fair share of waves thanks to Jose, and surfers came out of the woodwork to ride that hurricane swell! Set to some classic 70s rock from UFO, big thanks to Tumblehome Productions for this edit.
Surfing Hurricane Jose in Rhode Island
–
Surfing Hurricane Jose, Flagler Beach Pier with Robbie McCormick
To finish up we've got a rider clip of O'Neill team rider Robbie McCormick killing it at his Floridian home break of Flagler Beach Pier!
Surfing Hurricane Jose, Flagler Beach Pier with Robbie McCormick