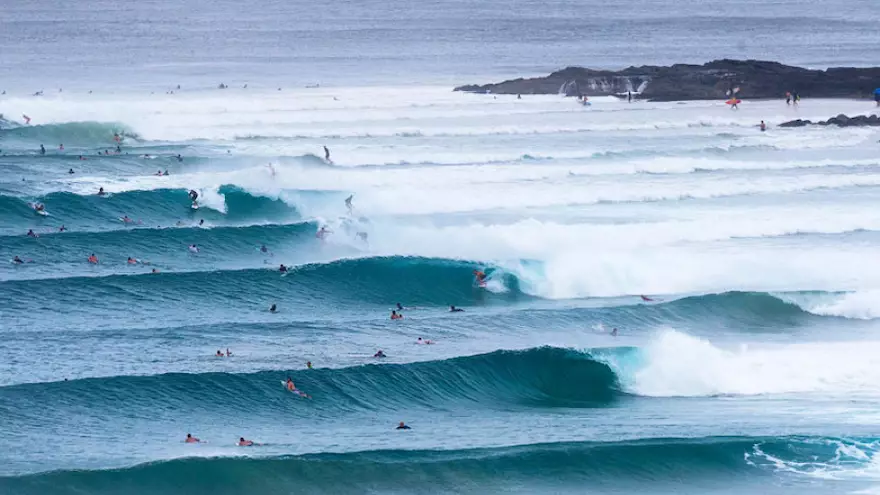 The Superbank doing it's thing…
Blessed with incredible weather all year round and with world-class surfing conditions, Australia is a hot spot for surfers. And for the best surf locations in Australia, you've got to travel to the Gold Coast.
Queensland boasts over 13,000 km of coastline when you combine its mainland and island shores and is one of the few places you can catch a wave beside some of the world's most renowned surfers. Whether you're a beginner kook or a pro surfing legend, be sure to check out these premier surfing locations the next time you're in Queensland.
And before you get too excited and start waxing your board and slapping on the sunscreen, remember to head online to secure your travel insurance. InsureandGo offers quality comprehensive travel insurance policies that can not only cover you for activities such as surfing, but also provides protection for a wide range of travel-related mishaps.
The Superbank
The Superbank is the Gold Coast's crown jewel when it comes to surfing locations. It connects Snapper Rocks, Rainbow Bay, and Greenmount by a massive man-made sandbank. Yes it's often crowded, but with good reason due to its quality of surfing.
Enjoy top quality waves that can sometimes take you more than a kilometre as well as long barrel rides. A southerly swell and south-easterly wind makes Greenmount perfect for surfing and popular with surfing legends such as Mick Fanning. Snapper Rocks forms the first portion of the Superbank and offers the exciting Quiksilver Pro World Surfing League competition each year.
Burleigh Heads
A great surf spot where you can catch a large swell, enjoy long rides, and experience the "Burleigh barrel", Burleigh Heads was the number one surfing location before the Superbank came onto the scene.
Situated halfway between Surfers Paradise and Coolangatta, Burleigh Heads is the Gold Coast's most northern point break.
Catch quality beach breaks between Burleigh Beach and North Burleigh, and don't miss Burleigh Point when there is a southeast swell. Check out the hiking trails in Burleigh Head National Park that runs along the coastline when you've had enough of wave action.
Kirra Beach
When conditions are right, Kirra Point offers the best sand-breaking right hand point in the world. Although the wave quality was initially diminished with the introduction of the Superbank, restoration work has since restored the famous surfing spot to a bit of its former glory. This is the home of the famous Kirra Surfriders Club and you'll find a nice local surf shop for all your surf gear needs. Kirra Beach also offers a sheltered and safe spot for taking surf lessons.
Currumbin Alley
One of the best spots for beginner surfers, Currumbin Alley sits at the mouth of Currumbin Creek just south of Palm Beach. Surfers of all ages, sizes, and skill levels can enjoy catching waves at this location. The Currumbin Alley Surf School offers lessons year-round and has gained the reputation as the Gold Coast's premier surf school.
Head to Currumbin Alley during large swell conditions to catch a wave from Currumbin Rock to Lacey's Lane at the southern end of Palm Beach. During flat days, Currumbin Alley makes for an excellent longboard beach. Note that you will often have to share the waters with paddle boarders, kayakers, and kiteboarders who also frequent the location.
Surfers Paradise
Those looking for more of a social scene can head to Surfer's Paradise where you'll find energetic nightlife, international events, and an always lively atmosphere. Enjoy a 3km long stretch of pristine sand where you can surf with people from all over the world who flock to this top Australian tourist destination.
Enjoy dependable surf on this exposed beach break, with waves breaking both left and right. In addition to great surfing, Surfers Paradise boasts a wide range of accommodation options, a bustling foreshore, beachside shopping, world-class dining, and numerous nightclubs.
South Stradbroke Island
Known as South Straddie to locals, this island just offshore the Gold Coast provides a natural escape from the larger crowds back on the mainland. Located just 200m from the northern end of the spit, serious surfers can simply paddle across the seaway or you can choose to grab a water taxi to the island.
The island's eastern side features an exposed beach break offering consistent surf, while the western side is great for swimming and water sports. There's is plenty of bushland and sand dunes to hang out with the plentiful wildlife when you're not hanging ten and several campsites and a resort allows for extended stays on the island.
Moreton Island
Moreton Island is largely a national park that can be reached by a 75-minute ferry ride from Brisbane. This island is an adventure paradise that offers more than just surfing and far less crowded than Stradbroke due to the fact it is more challenging to get to.
Surfers should head to Honeymoon Bay on the eastern side during small easterly swells and the north-western tip of the island during northeast swells with southerly winds. Enjoy great barrels around Yellow Patch. While on the island, be sure to catch some great 4WD action, epic sandboarding on the massive dunes, and snorkeling for underwater sea life and shipwrecks.