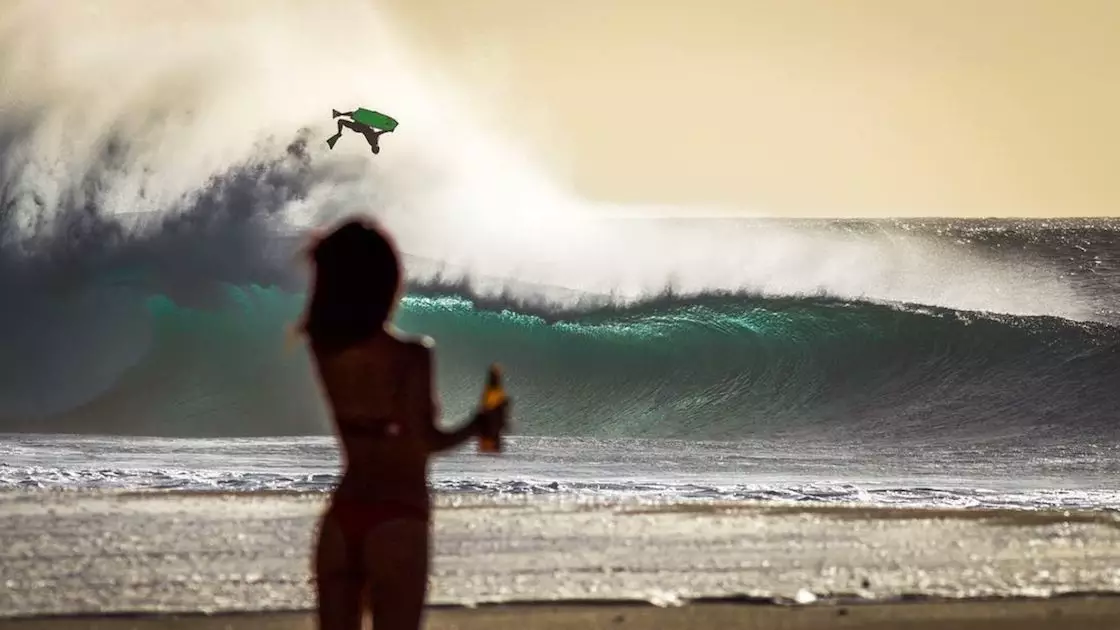 A view worth traveling for! – Photo: Todd Wass/Instagram
Life's a beach and then you die, so why not surf while you're here! The planet provides an abundance of amazing waves for you to shred, all you have to do is get your ass in the lineup. We've scoured the coastlines of every continent (except Antartica!) to bring you 30 waves to surf before you die, just in case you couldn't be bothered to look yourself. You're not going to live forever, so start ticking these surf spots off your bucket list before you croak!
Europe
La Graviere, France
Beach break barrels galore! There's good reason why Hossegor's most famous wave has been on the World Championship Tour for decades, it's an insanely heavy wave offering up plenty of time in the green room. A word of warning though, overindulgence of French wine might seem like a great way to wind down after a day in the surf, but a wipeout at La Graviere is going to hurt a lot more than your hangover!
–
Mundaka, Spain
River mouth breaks don't get much better than the one at Mundaka, it's a jewel in the otherwise modest crown of Spanish surfing! A fast left barreling across a sandbar, don't let it fool you, this wave will punish you if you can't keep up. The only thing we could possibly hold against Mundaka is that it doesn't light up often enough, but as the old adage/advertising campaign slogan goes, great things come to those who wait!
–
Coxos, Portugal
Portugal's coastlines is a treasure trove of different waves. Slabs, beach breaks, points, it has it all! If you only ever surf one spot here, the point break at Coxos is a fine choice. When the right conditions roll around, the perfect wind, swell, and tide, it's a solid right-hander that packs some serious punch. Jacking up over reef as it breaks off the point, you'll have plenty of chances to pull in!
–
Thurso East, Scotland
A Highland brute of a wave, interestingly discovered around the same time as the right-hander at Nias in Sumatra, leading to it being nicknamed the 'Coldwater Nias'. Brain-pulsatingly freezing during the winter, when the waves are best, Thurso East offers plenty of tube time for the surfer prepared to put the effort in.
–
Asia
Desert Point, Lombok
View this post on Instagram
Often dubbed as one of the finest left-handers on the planet, the story about the long-kept secret of Desert Point has now be made into a motion picture! An arduous spot to get to, let alone surf, Lombok's premier surf spot is a sorry place to be when there are no waves… but the complete opposite applies when this place is firing!
–
Cloud 9, Philippines
This wave was discovered by a drug smuggler on the run, so legend has it. At the end of the 80s, surfer Mike Boyum found himself hiding out on Siargao Island and stumbled across a zippering right-hand reef break, now know as Cloud 9. It's now the most famous surf spot in the Philippines, serving up turquoise barrels and a large dose of beatings onto the coral.
–
Macaronis, Mentawai Islands
The type of wave that seems like it was made specifically for surfing, Macaronis quite rightly takes its place in the upper echelons of the most fun waves on the planet. First, being in the Mentawais it's all warm clear water and boardshorts. Second, it has it all, hollow sections for getting tubed, pitching lips to tear into, and ramp sections for punting off. Who needs a third reason now?
–
Arugam Bay, Sri Lanka
Surfing in Sri Lanka centers around Arugam Bay, nicknamed A-Bay, thanks to the point break that seems to just keep rolling on and on. Regular footers will love it here, the long rights are super fun and, on a small swell, suitable for a wide range of abilities. When it begins to pump you might even get slotted!
–
Africa
J-Bay, South Africa
You all know this one, hell even people who don't surf know about Jeffreys Bay, thanks to a punch up between Mick Fanning and a great white shark. Sharks aside, of which there are a fair few here, the waves at J-Bay are some of South Africa's finest. It's such a long wave that it has different names for different sections, from Supertubes to Albatross, and when it's on can offer rides lasting over half a mile!
–
Skeleton Bay, Namibia
A relatively new discovery on the surfing map, Skeleton Bay has now burst onto the scene and is being threaded for all it's worth. Surfing Magazine (RIP) held a 'Google Earth Challenge' in 2008 that brought Skeleton Bay to the attention of the worldwide surf community, and now plenty of surfers are getting their fill of the left-hand sand-bottomed barrels served up here.
–
Anchor Point, Morocco
North Africa doesn't get the same attention as South Africa when it comes to surfing, but Morocco has a coastline packed with right-hand point breaks to choose from. One of these is Anchor Point, which comes alive during the fall and winter. Leg-achingly long rides are on offer if you can keep up!
–
Ouakam, Senegal
A surf trip to Senegal? Yes indeed, just try to make it a strike mission, because the best wave in the country doesn't break all too often. Ouakam breaks a painfully small number of times a year, but when it does the rights and lefts here are world class. Expect plenty of barrels to tuck into when it's pumping, just don't expect to make it out of them all!
–
Australia & New Zealand
Snapper Rocks, Queensland
The Gold Coast has a whole bunch of sick waves to choose from, but the one that seems to tower above the rest is Snapper Rocks. It doesn't break in all its glory that often, but when it does the right-hand rides on offer just keep peeling and peeling and peeling… and the only thing stopping you from getting the ride of your life here will be the crowds.
–
Lennox Head, New South Wales
Set beside a quiet green headland surrounded with round boulders, as surfing waves go Lennox Head is a perfect example of a beautiful point break. Nothing about this wave is easy, getting out into the lineup requires patience and stamina, and skillfully surfing the right-handers takes practice. But once you have this place wired you might never want to surf anywhere else again!
–
Bells Beach, Victoria
On the southern coastline of Australia is a little surf town called Torquay, home to one of the country's most famous surf spots, Bells Beach. Pro contests have been held here since 1973, every single year, making it the site of the world's longest running surf contest. It's undoubtedly one of the best waves down under, a right-hand point break that all surfers should ride at least once in their lives.
–
Raglan, New Zealand
Quite possibly the best surf spot in wave-rich New Zealand, Raglan is an awesome point break serving up lefts that peel for hundreds of meters on a solid swell, from Indicators all the way to Whale Bay! As if that wasn't enough, the super-chilled surf town next to the break is a sweet place to hang too.
–
Pacific Islands
Teahupoo, Tahiti
Starring in commercials, Hollywood movies, and countless double page surf mag spreads, Tahiti's killer wave is a cavernous beast that undoubtedly scares the shit out of many surfers. Luckily you don't have to surf this place when it's double overhead and throwing lips out further than the height of the wave itself. Start with a small day instead to enjoy picture-perfect barrels that don't pose a serious risk to your life!
–
Cloudbreak, Fiji
Looks can be deceiving, and while Cloudbreak appears to be a flawless wave that begs to be teared up, it's just as likely to tear you up on the reef below. It can be a tricky wave at first, but if you're prepared to put in the time a good wave here could just be the best ride of your life!
–
Pipeline, Oahu
We couldn't leave the legendary Banzai Pipeline off this list, it's been the proving ground of any surfer worth their salt since the birth of modern surfing. No visit to the North Shore is complete without a stop at Pipeline, but visiting surfers will have to wait their turn and pay their dues…
–
North America
Lower Trestles, San Diego County
Is it everyone's favorite wave? Lower Trestles ticks a lot of the boxes when it comes to a perfect surf spot. Consistent waves, left and right peelers, a fun mix of rippable walls, airtime ramps, and barrel sections to boot. This classic cobblestone reef-slash-point break is a winner all-round!
–
Steamer Lane, Santa Cruz County
This legend of a wave has been surfed since way back in the forties and is largely responsible for putting Santa Cruz on the surfing world map. There are a whole bunch of other surf spots in this Central Coast city, but Steamer Lane takes the trophy. The cliffs in front of this break chewed up boards for decades before local surfers Pat O'Neil and Roger Adams came up with the leash in 1970!
–
Cape Hatteras, North Carolina
The Outer Banks offers miles and miles of surfing options, but you can't go wrong with the sand banks around Cape Hatteras. Thanks to the continental shelf dropping off out to sea, the waves retain more of their power when they break here. Solid beach break peaks that often get hollow, east coast surf spots don't get much more consistent than this place!
–
Tofino, Canada
Canada isn't exactly famous for surfing, but that doesn't mean they don't get waves up there! The undeniable surf capital of the country has to be Tofino, on Vancouver Island. The main break here is the beach break peelers at Cox Bay, which can really pump on a solid south westerly to north westerly swell. Do a little exploring and you'll find plenty of other breaks in the area too!
–
Puerto Escondido, Mexico
One of the heaviest beach breaks on the planet, there aren't many sandy bays that can handle huge swells like Playa Zicatela. It manages to shape up triple overhead bombs with wide open barrels for surfers brave enough to paddle out. Known as the Mexican Pipeline, even small waves here can give you a beating!
–
Central America & Caribbean
Soup Bowl, Barbados
What better endorsement do you want for a wave than for it to be placed in the top three favorite waves of a 12-time world surfing champ? That's right, Slater loves Soup Bowl, a reef break serving up thick right-handers in the balmy tropics of Barbados! When this place gets big you can expect some serious hold downs, but it offers an array of different sections for surfers to practice their entire repertoire of tricks!
–
Popoyo, Nicaragua
Nicaragua is blessed with two coastlines, one facing the Caribbean Sea and another the Pacific Ocean, the latter being home to a spot called Popoyo. This laid-back beach town isn't exactly the easiest place to reach but it's worth the trip! The sand-covered reef offers a fun peak with both lefts and rights, while the outer reef another 400 meters away is a big wave spot reserved for serious chargers only.
–
Witches Rock, Costa Rica
A super fast beach break that takes its name from the massive rock jutting out from behind the lineup, this Costa Rican wave attracts surfers from all over the country and beyond. At low tide the lefts and rights can really pound you into the sand, so mid to high is the go!
–
South America
Pichilemu, Chile
It was the left-hand point break at Pichilemu that first propelled this town in South Chile onto the surfing world map, but the numerous other breaks in the area offer plenty of options for the visiting surfer. Located in South Chile, the cold water means a wetsuit is mandatory here but don't let that put you off!
–
Chicama, Peru
Peru's most famous surf break, the seemingly endless waves at Chicama can peel for a mind-bending two miles on a good day! It wears the crown of being the longest wave in the world, but making all the different sections would require some serious dedication to learning the ins and out of this surf spot.
–
Cacimba do Padre, Brazil
Cacimba do Padre on the island of Fernando de Noronha, with its pristine water and stunning scenery, really has to be seen to be believed! The place is idyllic, but the waves can be brutal. A hollow powerful beach break that offers barrels at the heightened risk of breaking your board, but it's worth it!