Chicama Resort
Without question, the nicest place you can stay in Chicama is theChicama Surf Resort. To name just a few of its amenities, the Resort offers:
-Two hot tubs (one of which is just outside their restaurant/bar, positioned at the edge of a cliff overlooking the waves)
-A massage room and staff masseuses
-A eucalyptis steam room (possibly the best thing ever after a long session)
-An amazing food menu for cheap
-Seriously, the food. You can get filet mignon for dinner for under 10 bucks. Most meals range from $3 to $7 US.
(I personally recommend the Lomo Saltado…)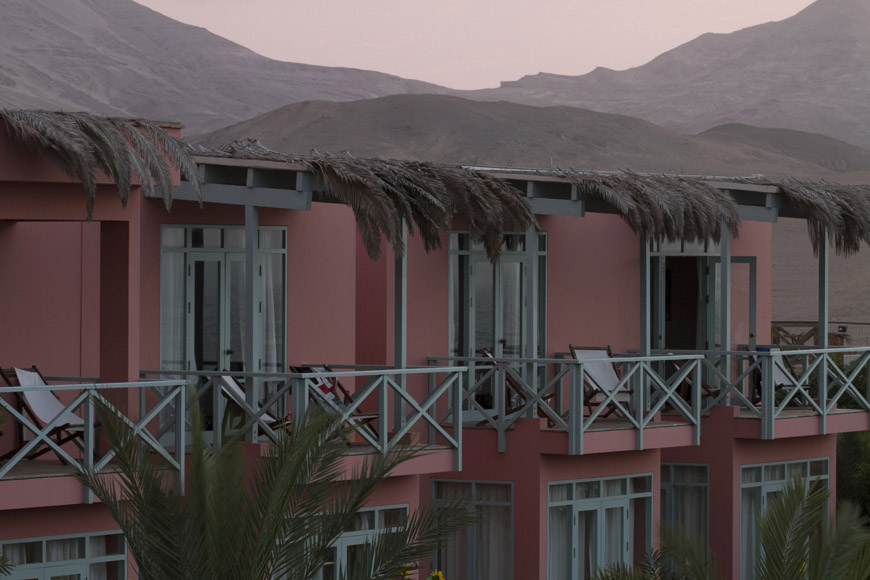 View of some rooms at Chicama Resort. Photo: Spears
Additionally, the breakfasts atChicama Resort deserve their own paragraph. First of all, breakfasts are free with your stay, but it's not just some standard continental breakfast… They do offer a table filled with toasts and cereals and all that, but they also take your order, and they'll make you french toast, omelettes, bacon, and pretty much anything else you can think of. I ate better breakfasts in Chicama than I do at home. Also note that the fruit and produce in this region is phenomenal- owed largely to Peru's rich soil.
The resort also does a lot for its town as well. All of the resort's employees are native Peruvians and the hotel is involved in a number of local charities. (*Check out the Share the Stoke Foundation for more info). The staff is super friendly, good natured, and eager to be helpful. I seriously can't say enough about the place. It was very impressive.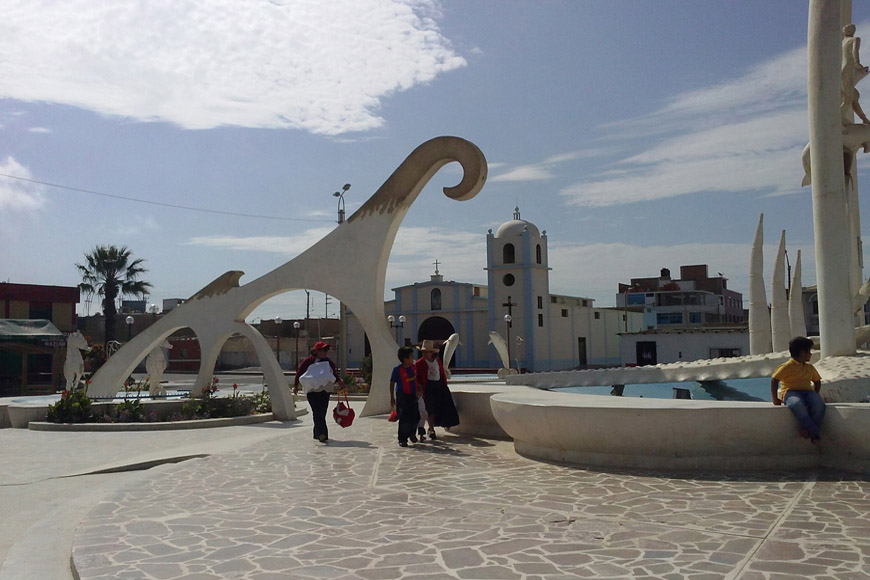 The town center in Chicama. Photo: Clemente
The Town of Chicama / Puerto Malibrigo
The town of Chicama is surprisingly upbeat for a sleepy little South American town. The town center is modern and well designed, and there are restaurants everywhere- almost all of which have beachside views- and a few have spectacular food for next to nothing. El Mirador, a small Cevicheria, was a local standout. Definitely check it out if you visit the area. Their "canche" (a popular Peruvian appetizer) was the best I had anywhere in all of Peru, and their "Picante de Mariscos" was a personal favorite.
There are also plenty of little super markets that are more fully stocked than you might expect. And as I mentioned earlier, the produce in this part of the world is incredible.
The only thing missing was a quality surf shop in town. There are a couple of minor offerings, but your best bet is the boutique surf shop insideChicama Resort. They're decently stocked and if you make a request to one of the resort's managers, they'll most likely be able to pick you up whatever you need.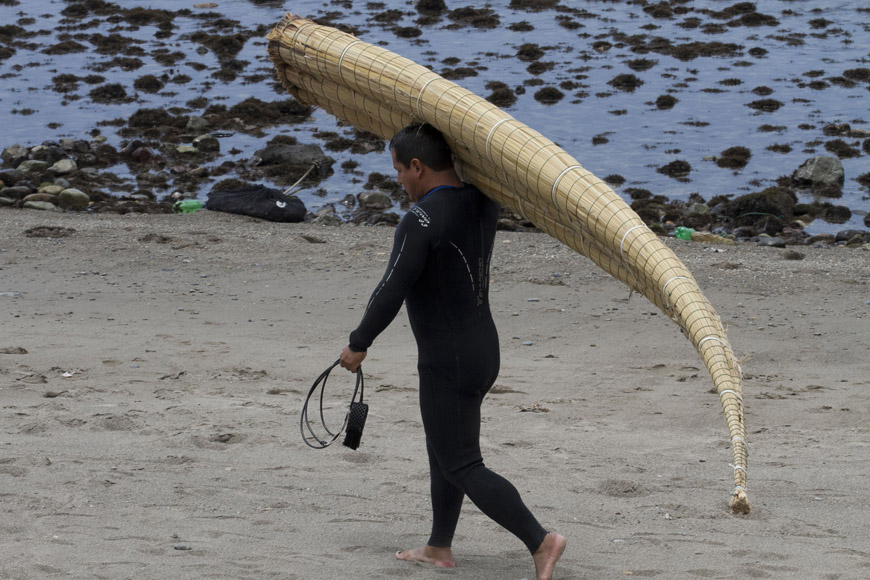 Chicho, of Muchik Surf School with a caballito de totora. Photo: Spears
Nearby surf Breaks
Huanchaco
The nearby town of Huanchaco offers another crazy long, clean left. A historic surfing town, Huanchaco was recently made a "World Surfing Reserve" by the Save the Waves Coalition.
In addition to its consistent, long, smooth waves, Huanchaco is also recognized as the father of one of the earliest surf crafts, the "caballito de totora". A surfboardlike vessel made from woven reed, and used by fisherman who would ride waves back to shore after fishing. You can still see them used today in Peru, both for tourism and for work.
A Huanchaco local, who runs theMuchik Surf Schooland shapes surfboards, paddled out on a caballito de totora and dropped in on a few waves for us using the traditional Peruvian craft. (The word 'Muchik' refers to a type of ancient extinct language native to the regions of Peru.)
Huanchaco is a lively little beach town with an enjoyable amount of tourism, historical significance, and a number of really nice spots to surf. Definitely worth checking out if you're in Peru.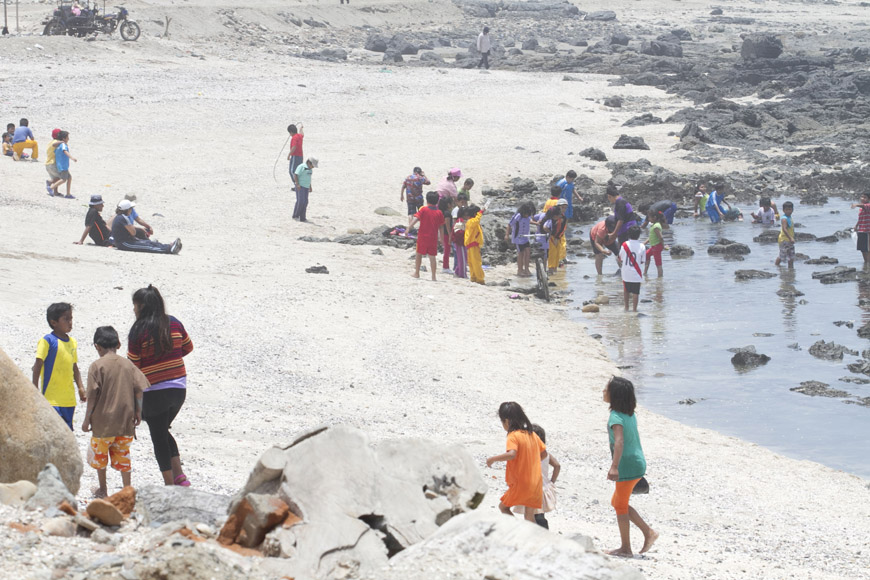 Locals enjoying Puemape. Photo: Spears
Puemape:
Puemape tends to work better on the early session to avoid heavier winds. It's a rocky spot, and the standard paddle-out has you hopping off some craggy rocks into the water between sets. This spot can handle a pretty big swell, and there's a cool vibe in this area. It's picturesque and feels remote (even for Peru.)
You'll often see locals here on leisurely day trips enjoying the beach. The waves can get very choppy if there's too much wind, but there are some great lines to be scored here at the right time of day.
Pacasmayo
Pacasmayo is often considered to be Chicama's Big Brother because it produces a similar wave but will hold bigger swells.
(Chicama never gets much bigger than 6-7 feet.) If Pacasmayo scores a 12ft S-SW swell, it can generate rides that rival Chicama in terms of length- and that's really saying something. Like Chicama, Pacasmayo has a very high consistency rate for producing at least some kind of rideable wave all year long.
Next, Page 3:Notes, Recommendations, & Final Thoughts