For surfers on the East Coast, autumn is our favorite time of year. Local summer. It is a time when we finally can enjoy our beaches without the hassles of traffic and crowds. The water is warm, the sun is strong and South swells and offshore winds are abundant!
The fall is also a great time to explore the breaks that come alive during hurricane season. With the help of extended forecasts and live beach cams, tracking the latest swell moving up the coast has never been easier. So pack up your van, hit the road and check out these three spots that are only a few tolls roads away.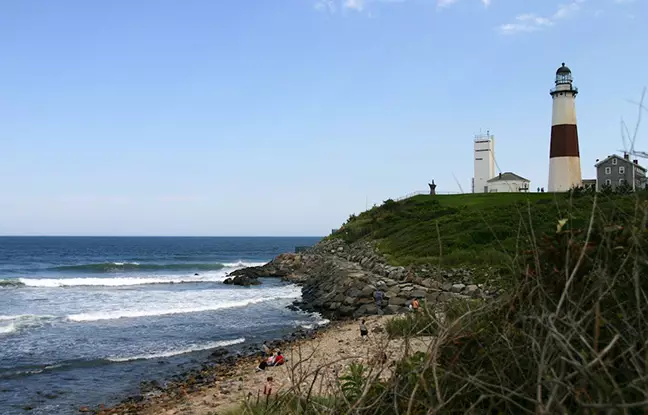 Montauk, NY – Photo: KH
Montauk
Drive east from the craziness of the Big Apple and find yourself cruising on the single lane highway along the Atlantic as it nears Montauk. Know as "The End", the farthest town east on Long Island, New York this quaint surf town has been well known by East Coast surfers for its abundance of beach breaks, coves and the famous lighthouse point.
Because of it's exposure to south and east swells, Montauk offers a lot of consistency as opposed to other breaks along the East Coast. Great for surfers who are looking for meatier beach breaks or loggers looking to cross step at the point. The premier surf spots to check are Ditch Plains and Turtles.
Make a stop along the way at Long Beach New York to check out their peaky beach breaks. The first East Coast ASP contest was held in pumping surf in 2011 during a hurricane swell.
Where to stay:
Montauk can be pricey and the best option in the area is to camp at Hither Hills State Park. Montauk is home to six state parks and Hither Hills offers surfers campgrounds for RVs and cars at a reasonable price.
If it's flat:
Montauk is a fishing town at heart and if the surf isn't cooperating the fish will always be biting. Hop on the next charter boat or cast a line right off the beach to catch your next meal.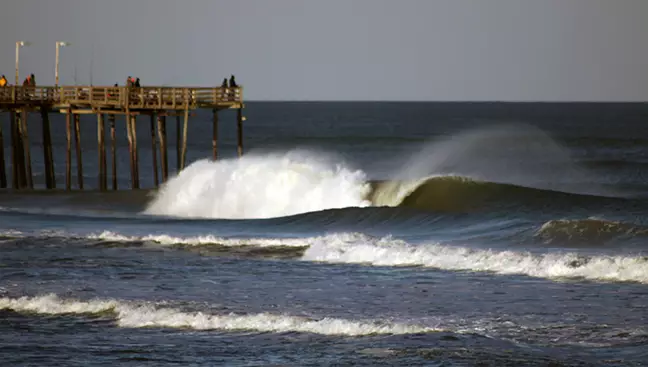 Outer Banks, NC – Photo: KH
Outer Banks, North Carolina
When the average surfer thinks about the Outer Banks images of fast, hallow tubes generally come to mind. During hurricane season south swells can form overnight and if you're a dawn patroller you can score fun, perfect rides before the tourists hit the beach. Frisco and Buxton are the spots to keep an eye on this time of year and Cape Hatteras Lighthouse is a staple in the area. Notable beach breaks and fishing piers line the coast such as Jeanette's Pier and Nags Head. Sure there will be crowds but driving north on the hard sand beach you'll find miles and miles of empty peaks.
Where to stay:
The best option for accommodations in the Outer Banks is renting a mansion on the beach. You and a group of your closest friends can enjoy an ocean view from your second story wrap around porch which makes for easy morning surf checks.
If it's flat:
Nature lovers can seek out the many lighthouses and state parks in the area while history buffs may be drawn to the Wright Brothers Museum. Either way, there's an abundance of bars, restaurants and shops to keep you occupied between surf sessions. As a day trip, hop in your 4 wheel SUV and drive north to Carova Beach, a desolate beach with wild horses roaming on the sand.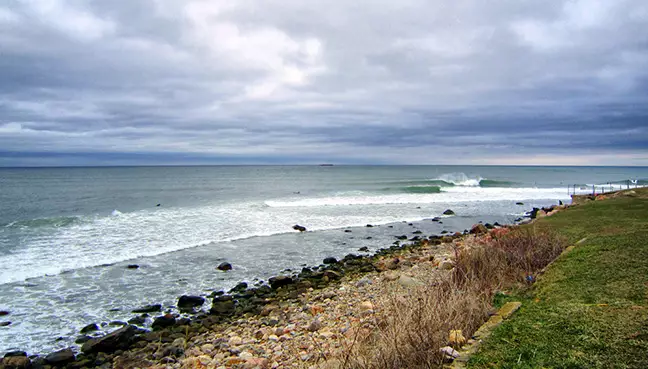 Point Judith, RI – Photo: KH
Rhode Island
It may be the smallest state but it has plenty of beaches, coves and point breaks to explore. Point Judith, Ruggles and Narragansett are generally the first spots that come to mind but with a little more research you can find empty waves around every bend. Rhode Island can be fickle and frustrating to nail down but if you're lucky enough to catch it when it's good you'll be smiling for days.
Where to stay:
If you don't have a friend in the area to crash with, consider renting a place for a weekend. Rentals are cheaper in the fall and every break is only a short drive away.
If it's flat:
If you've got some extra cash head into Newport to check out some great bars, restaurants and mega yachts. The Narrow River in Narragansett is a great place to go stand up paddle boarding or kayaking. If you're up for a day trip hop on the ferry to Block Island but bring a board just in case.