The Surfers View reached out to Chris Kelly of the Kelly twins to get his thoughts on his latest winter on Oahu. Truly loving the place, Chris got himself into the University of Hawaii and into a front row seat on the surf scene. And the guy doesn't stand idly by. In between classes, he's hucking himself over the ledge at all the name spots, including solid Waimea, and pulling every ounce of energy from the experience that he can. In his notes below, he talks about the waves he searches for, the best session so far and localism. It's a good reminder that the NJ boys are representing home admirably all around the world. Good on Chris and the whole lot…
A shot glass of Aloha from Frothylip on Vimeo. Filmed by Alex DePhillipo and Pat Meyers
---
Hawaii in the winter can be intense. Between the waves, the people, and the influx of high level surfers, it never fails to humble me and align my perspectives. Although I'm going to school at the University of Hawaii and have less free time, the surf sessions this season have been nothing short of a blast. I've been trying to diversify the waves I've been surfing, as there's just too many flavors not to try them all. Sunset, Pipe, Off-the Wall, Rocky Point, Gas Chambers and Lani's have been the main hunting grounds—my choices decided on the ever-present game of balancing swell direction and crowds. Though lately I've been finding places that are a bit more imperfect– maybe with slightly funky winds or a raging rip–that will weed out the crowds. Typically people on Oahu are looking for perfect and if all the factors aren't lining up to those standards, you can score by yourself.
The best session, thus far, was January 7th at Waimea Bay. Two 7th street groms from Ocean City, NJ (Zach Greaser and Scott Kirkpatrick) came out to the North Shore for their first time and I was determined to show them the best version of what locals call Country. On the second day of their trip, there was a fairly large swell approaching. We woke up early, hiked a trail down the street from my house and waited until conditions cleaned up. While most of the lineup was riding 10' guns, the groms had only 7'0's. Zach and Scott knew they needed to sit steep and deep in order to paddle into the sets and did exactly that. To make things even more interesting, my good friend, Mike Hinchman, took an absolute bomb, free fell from the top of the lip, took 3 sets on the head and finally made it to safety shaken, but alive. The session was a reminder that the best experiences the North Shore produces are those days when you're pushing the limits with friends. And, of course, nothing beats a good beating when your boys are alongside.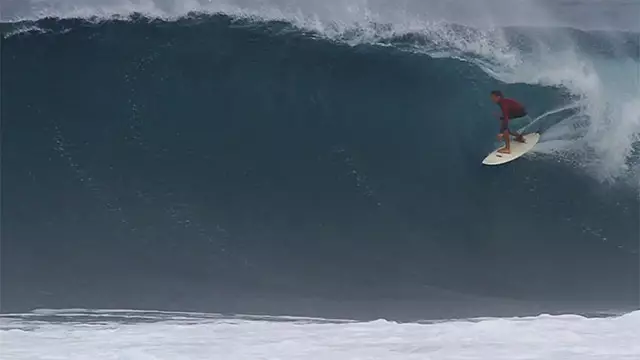 Photo: Chris Kelly charging big surf in Hawaii
As far as locals go, I've seen a few fights in the water, but nothing out of control. Most people know whose who and respect that these people are sharing their home with us. Given the circumstances, we should be grateful that they share this wonderful stretch. Most lineups still have the Aloha spirit the Hawaiians intended to instill.
With late season approaching, lighter winds and crowds will be the norm. Its at this time your confidence is peaked and a sense of urgency to seize the possible "last swell of the season" is on the rise.